Inspired by purity of the lotus
By ESTHER CHANDRAN, The Star, November 19, 2004
Kuala Lumpur, Malaysia -- The painting entitled "Centre of Heart" reveals a glow of wisdom one derives from the teachings of Buddha. The exquisiteness of the lotus flower, an Asian water lily, beguiles many as it habitually grows in ponds, giving an inexpressible beauty to the ponds where they flourish.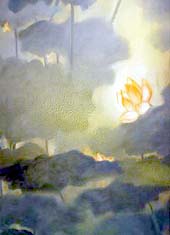 The flower is seen as a symbol of purity in religious teachings, especially in Buddhism, while in Hinduism, the goddess of fortune Lakshmi is depicted sitting on an enormous lotus flower.
Many Buddhists, enthralled by the sheer presence of the lotus, are often inspired to either grow lotuses in ponds or shallow pots at home while some prefer to have paintings of the flower.
As a devout Buddhist, Penang artist Becky Choong was inspired by the teachings of Buddhism and painting lotuses from all angles.
Her exhibition ?Purity,? held in the Elle Six Art Gallery, is her second solo exhibition on paintings of lotuses and water lilies.
The exhibition is in aid of the Kiwanis Down Syndrome Foundation because Choong believes that artists can help those in need through art.
?The lotus represents cleanliness, purity, compassion and wisdom, offering visual and spiritual enlightenment.
?Even though it grows in the mud, it remains uncontaminated,? Choong said.
Her impressionistic presentation of lotuses using oil paints emphasise colour structures with strokes that vary between bold and thin.
To Choong, the lotus symbolised the union of purity and wisdom.
?When I look at a lotus, I feel at peace and when I paint a lotus flower, I am transported to my spiritual realm,? she said.
She hoped her audiences would also feel peace when appreciating her works.
The painting titled ?Centre of Heart? or ?Light of Buddha? reveals a bright glow from the shadows of the lotus leaves as if the glow emanated from the solitary orangey lotus stalk.
Choong thanked the Lord Buddha through this painting for the enlightenment and teachings that has benefited her.
It is obvious that Choong only paints lotuses in various warm colours as the common white lotus is absent in her series of paintings.
She said by using warm tones such as orange, yellow and red, she is able to show the glow of Buddhism.
?White is often associated with purity but to me, lotuses portrayed in warm colours illustrate the beauty and subtle nature of the lotus flower,? Choong said.
The exhibition, officiated by Federal Territories Ministry parliamentary secretary Yew Teong Look, features 31 paintings and will run until Nov 26.
For details, call 03-2093 5925.