Carving Buddhist Teachings on Wood
By Kim Ki-tae, The Korea Times, Feb 8, 2006
Seoul, South Korea -- The craft of wood engraving starts with the selection of fine wood. Red pine trees without gnarls are usually preferred, but wild pear trees, aromatic trees or ginkos are also popular.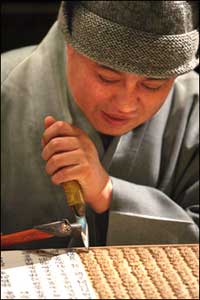 << The Rev. Hea An engraves a Chinese character on a wooden plate at a temple in Seoul, Tuesday.
Once selected, a tree is cut into blocks of appropriate sizes. To prevent any twisting or cracking, engravers place the blocks upside down for the two years, leaving them in rain and snow. The process is to remove the sap from them.
In another method, the timber is placed in fresh water for about six months to smooth the grain. The blocks are then steamed to kill germs living inside and to remove any remaining sap. Once dried, the surface is smoothed out with a plane. Finally, the carving can begin.
This is how numerous anonymous artisans from the Koryo Kingdom made the gigantic Tripitaka Koreana (Palman Taejanggyong), consisting of more than 80,000 print blocks without a single typographical error, around 800 years ago.
It is also how the Rev. Hea An has elaborated his wood engraving works for the last 20 years. The monk is to hold an exhibition of around 170 engraving pieces at a temple in central Seoul beginning today.
``When you dry and trim wood blocks, you need to interact and sympathize with them, otherwise you cannot get what you want,'' the Buddhist monk said in an interview with The Korea Times at Pomnyonsa Temple, the exhibition venue.
``When you see the surface pattern and grain of a completed block and feel its `coldness' on your fingertips, you can intuitively catch what type of writings will fit the block,'' he said.
For the monk, based at Manilsa Temple in Sunchang, North Cholla Province, it is usually after dinner that he can spare time for his hobby, which is also the core of his asceticism. Once engrossed in the carving, he often found himself realizing it was already 3 a.m., time for morning worship.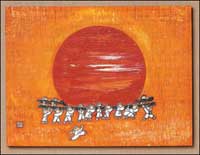 A 2000 work titled "Children Carrying the Sun" >>
``When engraving characters, I feel like I am a feather floating over clouds, wearing nothing, thinking nothing. And suddenly I found sitting in front of me a completed engraving work,'' he said.
The monk also said he kept vigilant lest ``his mind should be stained'' by greediness. ``While making pieces, I often come to think `Okay, I want to do this or that' and `Next time, I will do this or that,' which makes me want more and more.''
Once, he found two embossed Chinese characters broken off while completing a carving of a 6,700-character Buddhist text on a large block, which had taken him around six years. ``People then suggested that I stick the two characters back to the text with glue and I also was conflicted whether I should or not. However, I came to think that I was just distracted during the work, and Buddha had taken the two letters away to waken me up.'' Then he destroyed the wooden plate with an ax and started the work from scratch.
The 45-year-old monk said he started the ``trivial craft'' just after he entered the priesthood around 20 years ago. It was because a few senior monks taught him that ``a Buddhist monk should do at least one productive activity in addition to the basic three duties _ meditation, prayer and study.'' And his choice became his lifetime craftwork. ``Then I thought carving out bark seemed like scrubbing stains off of my mind.''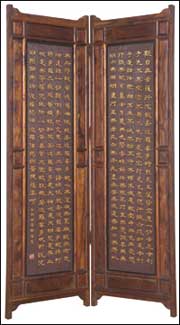 << Partitions with text of a Buddhist sutra, Prajuaparamita Hrdayasutra, 1999
He seems to regard his artistic talent as not only a tool for his religious search but also a bridge connecting Buddhist teachings and sentient beings. ``People tend to associate Buddhist monks with an unworldly life disconnected from secular lives and civilization. They want us to stay within the stereotype. I think that image of Buddhism is far from the reality,'' he noted. As if to break the frame, the Buddhist monk has opened his homepage (www.heaan.co.kr) to introduce his artwork to the public. Even more, one might feel puzzled to hear his mobile phone ring tone, sexy icon singer Lee Hyo-lee's ``Any Motion.''
Even though the monk, when asked, did not know the name of the song and its singer, his casual and unaffected demeanor was far from the typical sacrosanct solemnity worn by priests. He even rejected being called a ``master of Zen wood engravings.'' ``There was no such things as Zen wood engravings, but just wood engravings. And I am not a master either. Publishers wanting to sell more of my books invented the title,'' he said. ``I am not a good calligrapher.''
Asked to give tips on how people, especially foreigners, can appreciate his artwork, he mulled for minutes and said ``I don't know… Just see it as I just made it.''
The exhibition, titled ``One Stroke, One Carving'' runs from today through Feb. 18 at Pomnyonsa Temple, just next to Kyongbok Palace.
One Stroke, One Carving
When: Through Feb. 18
Where: Gallery Bul-Ihl in Pombyonsa Temple, near Kyongbokkung Palace Station on subway line 3
Info: (02) 733-5367, 5322