The splendor of Tendai art
by Robert Reed, Special to The Daily Yomiuri, Mar 30, 2006
Tokyo, Japan -- "Spring has come to Ueno in all its glory, and with it an exhibition that may come only once in a hundred years." Thus reads a leaflet for the exhibition Faith and Syncretism: Saicho and Treasures of Tendai that opened this week--along with the cherry blossoms--at the Tokyo National Museum in Ueno.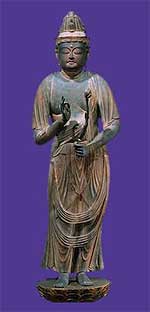 The National Museum has always been a venerable purveyor of grand exhibitions of Japanese and Asian art, and the scale and appeal of its exhibitions have only grown since the completion of the museum's new Heisei-kan building in 1999. So it is surely with good reason that the museum makes such a claim about the show that opened this Tuesday and will run through early May.
The "Treasures" in the show's title refers to an amazing collection of 31 works of Buddhist sculpture, painting and documents designated as national treasures (kokuho) and another 100 works of the important cultural asset (juyo bunkazai) class. These are certainly unprecedented numbers for a single exhibition, even at the National Museum. But it is a collection befitting the cultural significance of the exhibition's subject: 1,200 years of Tendai Buddhism and its art in Japan.
The story of Japan's Tendai sect begins with a young monk named Saicho (767-822) who was sent to Tang China to study Tian Tai (T'ien t'ai) Buddhism for two years from 804. When he returned to Japan, Saicho brought with him a new concept of Buddhism based on the Lotus Sutra. He eventually won the devotion of great numbers of people by preaching that Buddhist salvation was something that could be achieved by anyone, regardless of class, social status or gender.
Under the patronage of Emperor Kanmu and later Emperor Saga, The Tendai sect was officially established and given the important right to ordain priests at Enryakuji, the temple founded by Saicho on Kyoto's Mt. Hiei.
In the first rooms of the exhibition, we see documents from the ninth century recording details of Saicho's journey to China, including the traveling papers he carried certifying him as a religious emissary of Emperor Kanmu and lists of sutras he brought back to Japan. There is also a copy of the Lotus Sutra said to be in Saicho's own calligraphy that is designated a national treasure. Another document with beautiful calligraphy is believed to have been written by Emperor Saga himself in 823 as the decree recognizing Enryakuji as the main temple of the Tendai sect. Ironically, Saicho--later known as Dengyo Daishi--never lived to see this document, having died just months before its issue.
According to Saicho's new Tendai teachings, salvation could be achieved by reciting and copying the Lotus Sutra. The show offers many magnificent examples of such copies of the sutra from the Heian period (794-1192), often richly decorated with gold and silver leaf and paintings. Another area in which Tendai inspired an artistic flowering was Heian period Buddhist sculpture.
Buddhist sculpture of the Heian period is widely loved for the beauty and benevolent grace of the faces and figures of Buddhist deities like Kanzeon (abbreviated as Kannon) Bosatsu (Avalokitesvara), the Buddhist goddess/god of mercy, Amida Nyorai (Amitabha), the Buddha of infinite light, and Yakushi Nyorai (Bhaisajyaguru), the Buddha of medicine and healing. For this exhibition, Tendai temples around Japan have cooperated in assembling a magnificent group of sculptures that truly make this a once-in-a-century exhibition.
"We were very fortunate to have been lent a set of three sculptures from the Kaneiji temple here in Ueno that have never been shown to the public before," said the museum's Shiro Maruyama at the press preview Monday. "This is a historic event that I hope people will appreciate, and it is also an interesting coincidence in that the land on which the Tokyo National Museum is built originally belonged to Kaneiji, and the hall where these sculptures originally stood was very close to where our museum now stands."
Maruyama went on to explain that the central Standing Yakushi Nyorai came to Kaneiji from a temple in Shiga Prefecture and was said to have been carved by Saicho himself. It is now believed to be a 10th-century sculpture that is very likely a copy of an original Saicho work. He also points out the decidedly angular features and square-ish face of this sculpture as evidence of the greater variety of individualistic styles in Buddhist sculpture during the first half of the Heian period.
The Heian period was characterized by an absence of Chinese influence and a flowering of indigenous Japanese culture as the Heian rulers cut off political and trade relations with the continent.
A beautiful statue of a seated Yakushi Nyorai from Zensuiji temple in Shiga Prefecture comes from the period at the end of the 10th century when more than a century had passed since the last influx of Chinese sculptures and a uniquely Japanese style of Buddhist sculpture was beginning to evolve.
Fine examples of the more completely Japanese-style sculpture of the 12th century are seen in the Standing Sho-Kannon from Mt. Hiei's Enryakuji and the seated Dainichi Nyorai from Yokokuraji temple in Gifu Prefecture. The latter is known to be the work of the famed Buddhist sculptor Chikuzen Koshi from 1183.
As Saicho's Tendai sect eventually evolved into the Jodo, or Pure Land sect, one of the dominant images for both sculpture and painting was that of the "Descent of Amida" (Amida Raigo) in which Amida Buddha descends from the heavens to receive the soul of a deceased believer and lead it off to the Pure Land--the Buddhist paradise in the West. Amida is usually flanked by Seishi Bosatsu (Mahasthamaprapta) on the right and Kannon Bosatsu on the left. The last large gallery of the show contains a number of paintings of the Descent of Amida from the Heian period.
Of course, heaven is only for the righteous. For sinners awaits judgment and hell. On the opposite wall from the Descent of Amida paintings hang a group of 15 scroll paintings of the Tendai vision of hell. These 15 paintings from Shoju-raigoji temple in Shiga Prefecture depict what is known as Rokudo, or the Six Paths of the human soul. Painted in the 13th century, this particular set of rokudo-e is one of the oldest and finest extant and is another reason why the Tokyo National Museum calls this show a once-in-a-century event.
These paintings have been shown separately or in small groups several times in the past, but there has not been a display of all 15 paintings together in 50 years, and even then they were not shown on one wall as we are able to in this exhibition," explained senior researcher Shigeru Matsubara at the press preview.
"They will only be on view for the first three weeks of the exhibition, however, so we hope as many people as possible will come to the show during these first weeks and take advantage of this rare opportunity to see the entire series," he added.
Indeed, this is an amazing exhibition that should not be missed if you have an interest in Japanese sculpture and painting--even if you may not be so interested in Buddhist art. There are explanations of the periods and title plates in English on the gallery walls and the catalog (with limited English commentary) is a complete and beautifully printed document that will make an excellent collector's item.
Faith and Syncretism: Saicho and Treasures of Tendai
Until May 7, open 9:30 a.m.-5 p.m. (6 p.m. on Saturdays, Sundays and holidays and 8 p.m. on Fridays), closed Mondays except May 1.
Tokyo National Museum in Ueno Park, a 10-minute walk from JR Ueno or Uguisudani stations.
Admission: 1,300 yen for adults, 900 yen for university and high school students and 400 yen for middle and primary school students.
Information: visit www.tnm.go.jp or call (03) 3822-1111.
Note that there will be changes in the works on display during the exhibition run.