At a Gallery in Lhasa, Tibet Joins Art World
By CRAIG SIMONS, The New York Times, November 22, 2004
LHASA, Tibet - Judging from their work, the Gedun Choephel Artists' Guild might be just another garden-variety group of painters struggling to make names for themselves in any city you can think of. Their artwork, displayed in a small gallery owned by the group, shows the hallmarks of contemporary art everywhere: abstract symbolism, veiled social commentary, mixed-media expressions of postmodernism.
But in Lhasa, the capital of Tibet, this co-op of 10 Tibetan and two longtime-resident Chinese painters is the beginning of something bigger: a bold attempt to remake a culture bound by centuries of tradition and hemmed in by narrow stereotypes.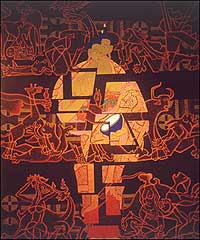 "Bicycle" (2003) by the 30-year-old Tibetan >>
artist Tsering Nyandak. (Craig Simons for The New York Times)
The group opened the gallery, which they call Tibet's first "semiprofessional art space," last year both to show their art and to advance their heady goal of reinterpreting modern Tibetan culture. "Many people simplify Tibet," says Gade (many Tibetans use single names), a 33-year-old Tibetan painter who also teaches fine arts at Tibet University. "They ask, 'How can Tibet have things like Christmas trees or fast food or Nikes?' But young Tibetans have already accepted these things."
Like the work of many of the guild members, Gade's art deals with the interplay between tradition and modernity that is shaking Lhasa. One of his paintings, "Group Photo," combines Western icons with traditional Tibetan figures that he grew up admiring: a few of the dozens of characters pictured include Mickey Mouse, Superman, Karl Marx and Ludongzan, a Tibetan famous for escorting a Chinese princess to Tibet, where she married a Tibetan king in the seventh century.
Another Gade work is a series of five paintings examining how trees are used symbolically around the world. One painting in the series shows a Christmas tree full of gifts, a comment, he says, on Western material culture. Another shows the Bodhi tree, under which the Buddha found enlightenment in the sixth century, a third is a coin-laden traditional Chinese "money tree" and yet another is a futuristic vision.
For Westerners used to thinking of Tibet as a spiritual Shangri-La removed from the fast-paced changes of the international marketplace, such images are shockingly modern. But for Tibetans living amid the rapid globalization that has gripped Lhasa during the last two decades, they are simply a natural response. "We aren't deliberately revolutionizing our art," the 30-year-old artist Tsering Nyandak says. "We are just being ourselves."
That is not to deny that their art is clearly Tibetan. Several of the artists in the group create realistic portraits of Tibetan life. Tserang Dhundrup's "Old Alley," for example, an oil painting of photographic veracity, shows a woman carrying her child through a Tibetan lane. Other artists incorporate traditional Buddhist imagery to comment on international politics. "Wrong Position," by Jhamsang, 32, is a fragmented representation of the Buddha set over the artist's rendition of Picasso's "Guernica," a comment on how war conflicts with the harmony that Buddhist doctrines encourage. "2004," an oil painting by the guild member Penpa Tsering, 30, shows a Buddhist saint against a backdrop of Chinese newspaper clippings on the Iraq War. "Buddhism stresses acceptance and forgiving," Mr. Penpa says. "And right now people need those ideals."
Still other guild artists focus on a drive to regain their own Tibetan artistic voice. Ever since the Chinese army occupied the formerly self-governing region in 1950, Gade and other artists say, outsiders have been speaking for Tibetans. During the first 30 years under Communist rule, the Chinese image of Tibet was of a backward people that needed to be reformed.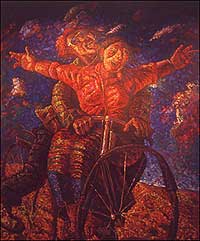 << In "Wrong Position" by Jhamsang, the Buddha meets "Guernica." (Craig Simons for The New York Times)
"In the 50's," Gade says, "Tibetan artists only painted religious art, and the Chinese artists that the army sent created political propaganda showing Tibet as a feudal society and arguing that we should believe in socialism."
In the 80's, after Deng Xiaoping's policies opened Tibet to the outside world, Chinese artists began to travel freely in Tibet and often represented the land as mysterious, holy and pure. That helped create a hippie aesthetic that attracted other Chinese artists. "Ninety-nine percent of the art depicting Tibet in the 80's and 90's was created by ethnic Han Chinese," Gade says.
The problem was that Tibetans, unschooled in modern artistic techniques, were excluded from commenting artistically on their own culture. "It is similar to when white Americans painted Native Americans," Gade says. "There was too much room for them to add their own biases."
For Tibet, the lack of a voice created real problems. The Tibetan author Tashi Tsering remembers how in the 1950's, Chinese movies depicted a "glorious liberation" of Tibet by a paternalistic Chinese Red Army. Such propaganda helped to justify China's taking Tibet: "The Chinese liberation," Mr. Tashi says, "was carried out by soldiers who thought they had an opportunity to help an oppressed people."
Today the most constraining stereotypes of Tibet, Gade and other guild artists say, may come from the West. "Foreigners think that Tibet is only religious," he says. "But this culture is more complicated. We also like to eat fast food and watch American movies."
He blames these stereotypes for an uproar of protest overseas in June when the KFC chain announced plans to open fried chicken franchises in Lhasa. After the Dalai Lama publicly called on KFC not to expand into the region, partly to prevent the slaughter of chickens, and pro-Tibetan groups in the West decried the company's plan as an instrument of imperialist China, the company shelved its plan. "But," Gade says, "we also want to be able to eat Kentucky Fried Chicken. Some people want us to remain as simple as possible."
Certainly the art that guild members create is far from simple. "Untitled No. 2," a large oil painting by Tsewang Tashi, shows a young Tibetan man dressed in a green jacket and red sweater staring out defiantly, a stereotype-breaking image in a place where paintings of local people, often made by outsiders, tend to romanticize and simplify their lives. "Mother," by Mr. Penpa, incorporates dozens of stylized Buddhist saints in what the painter calls a work about the importance of protecting the environment, or Mother Nature.
The surge in Tibetan creativity is sure to grow. Increasing numbers of Tibetan students are studying at art universities like the prestigious Central Academy of Fine Arts in Beijing, where several guild artists trained. Many more Tibetans are being introduced to fine arts as primary school students in Chinese-managed schools.
Increasing intellectual freedom has also prompted growth. While some topics - especially Tibetan independence, the Dalai Lama (who has lived in exile in northern India since 1959) and open attacks on the Chinese government - are still banned, the influx of tourism, economic growth and a proliferation of Internet bars has created a more international and intellectual culture.
Still, getting by as an artist in Tibet is not easy. The artists pooled their money to open the gallery, which has 200 square feet of exhibition space, and they run it as a co-op, with 10 percent of each sale going toward costs and supporting struggling members.
Exhibiting outside of Lhasa has been more difficult. Several of the artists have shown in Beijing, Shanghai and overseas, including at the Snug Harbor Cultural Center on Staten Island and a gallery in London, but exhibitions have been small and their impact minimal. "Big gallery owners aren't interested in our works because they don't fit the stereotype," Gade says.
But that isn't stopping him from creating more iconoclastic art. Currently he is busy with another work in his "Group Photo" series that brings together Tibetan, Chinese and Western images. He hopes to show younger Tibetans that art can explore more than religion and that there are, as he says, "many ways to think about the world."
He also hopes to encourage a more introspective Tibetan culture. "We need to represent real life and ask real questions," he says. "If we just paint pretty pictures and hang them on the walls, what value do they have?"