Treasures of Tendai
By MICHAEL DUNN, The Japan Times, April 6, 2006
An art born of Saicho's syncretism
Tokyo, Japan -- This year marks the 1,200th anniversary of the founding of the Buddhist Tendai sect in Japan, when Priest Saicho (767-822), posthumously known as Dengyo Daishi, received court permission to establish a school of religious study and training at Enryaku-ji Temple on Mount Hie to the northeast of Kyoto.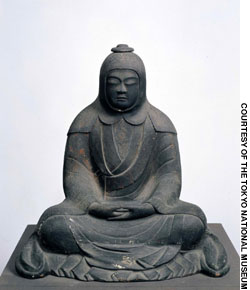 << News photo
12th-century statue of Saicho (above); 12th-century figure of Kannon
News photo
The purpose of the center was to train spiritual leaders, since -- according to Saicho's book "Essential Teachings for the Priests of the Tendai Hokke Sect" -- "one who can illuminate even one corner in the world . . . is a National Treasure."
In commemoration, a major exhibition, "Faith and Syncretism: Saicho and Treasures of Tendai," is at the Tokyo National Museum till May 7, showing sculptures, paintings, calligraphy and other religious objects selected mainly from temples throughout the country.
Saicho's connection with Mount Hie dates from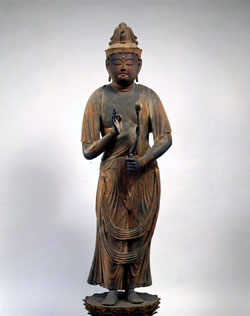 when he was 19 years old, at which time -- disgusted with the degenerate state of the Buddhist clergy at temples in and around the old capital of Nara -- he built a cottage on the mountain and devoted himself to the ascetic study of original Buddhist teachings. Two or three years later, he established a temple on Mount Hie, just shortly before the Imperial Court moved to Kyoto.
Thereafter, for religious, and possibly political, reasons he managed to attract Imperial patronage, and in 802 was sent to study at Mount Tiantai in southwest China.
There, Saicho immersed himself in the study of the Lotus Sutra (considered the ultimate teaching of the historic Buddha, but probably written sometime after his death), together with Esoteric Buddhism and Zen. On returning to Mount Hie, he unified what he had learned with local Shinto beliefs, and from this syncretism (meaning "the unification of various religious beliefs") he developed a new form of Tendai Buddhism more suitable for Japanese followers.
Despite the bewildering complexity of Tendai philosophy and practice, its central belief is that all sentient beings are bodhisattvas who can become enlightened Buddhas and gain entrance to Paradise. This revelation had a tremendous effect on Buddhism during the Heian Period (794-1185), as religious hope and opportunity -- which previously had been considered almost exclusive to the clergy and court ranks -- became accessible to everyone.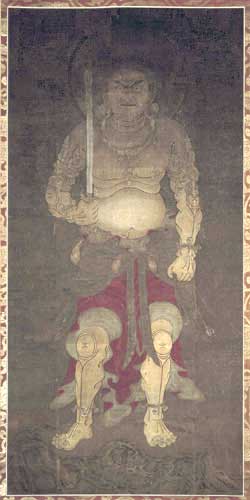 News photo >>
12th-century painting of Fudo Myo
Saicho's syncretism was nevertheless far from final, and religious debate continued during his life and after his death. The Tendai sect spread throughout Japan, inspiring artists and craftsmen to produce a huge variety of adornments for temples and sculptural and pictorial images for didactic purposes.
It also provided an intellectual and spiritual environment that spawned further new sects with their own interpretations of Saicho's teachings, including Jodo and Nichiren -- which emphasized ritual, prayer and religious practice -- and Soto and Rinzai Zen -- which stressed a personal spiritual search through meditation. These sects in turn refined religious doctrines to suit their own ideals, and are still extant today.
The original Tendai complex on Mount Hie grew in time to the size of a small city that, at its peak, supported some 3,000 sub-temples and an army of militant warrior-monks famed for challenging political and religious opponents at every opportunity. The complex is now a designated World Heritage Site and still serves as the Tendai headquarters for more than 19 million members who follow "the perfect teaching" of native beliefs mixed with the Buddhism that Saicho studied in China.
Most of the temples that can be seen today date from the late 16th and early 17th century, having been rebuilt after the daimyo Oda Nobunaga destroyed the Enryaku-ji complex in 1571 in an attempt to unite the country by eliminating all his rivals.
In the exhibition, several paintings, and a beautiful small wooden sculpture from the Kannon-ji Temple, portray Saicho himself. All show him full-fleshed and round-faced with downcast eyes, and just a trace of a furrow at his brow to suggest concern for the enormous job he shouldered. Other sculptural highlights include a standing figure of Kannon clutching a lotus bud from Enryaku-ji, with a serene expression and a third eye of inlaid crystal -- as well as a rarely revealed, seated, gilded Buddha of Healing from Zensui-ji Temple. Both of these masterpieces are being shown away from their temples for the first time.
The diversity of Tendai religious images is extraordinary and reveals an all-embracing reverence of Buddhas, bodhisattvas and guardian deities, as well as members of the native Shinto pantheon that were already long established. One of the delights is a 12th-century crouching monkey carved in wood that represents a "Messenger of the Gods of the Mount Hie Shrines."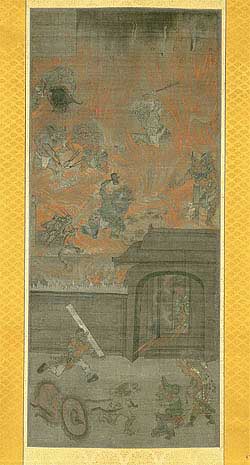 News photo >>
a 13-century depiction of hell
Other images are more fearful, and serve to warn of what can happen to those who stray from the path. A Heian Period painting of Fudo Myo shows the muscled "immovable" guardian of Buddha's doctrine, wide-eyed and grimacing, sword at the ready, in strange uplighting to emphasize his otherworldly nature. And if his warning isn't sufficient, graphic scenes of Hell's torments should serve to nudge the criminally inclined back to the straight and narrow path.
Nevertheless, hope and salvation is the underlying message of Tendai, and one recurring painted image is that of the enlightened Amida Raigo swooping down on a cloud, surrounded by attendant deities -- sometimes accompanied by a heavenly orchestra -- to pluck a deserving soul from Earth "in the blink of an eye."
To fully understand the symbolism and meaning of the objects displayed in this exhibition would take lengthy study, and for the nonspecialist much would be lost in translation. Many of them are, however, artistically sublime and can be appreciated subjectively for their beauty alone.
This is a rare opportunity to see some of Japan's most important religious art at close quarters in a museum setting rather than in the gloomy recesses of a temple. (Although I do recommend taking reading glasses in order to see some of the details.)
Many of the exhibits are rarely shown at all, and some have been rediscovered as a result of a special study of Tendai by scholars at the Kyoto National Museum. A few are now designated "National Treasures," but for Priest Saicho, such words described not esteemed art works ranked by bureaucrats, but those early masters of Tendai who devoted their lives to trying to shed light in the shadowy corners of spiritual fate.
--------------------------------------------------------------------------------
"Faith and Syncretism: Saicho and Treasures of Tendai" shows till May 7 at the Tokyo National Museum in Ueno Park. Open 9:30 a.m.-5 p.m. (Closed Mon.). Entrance 1,300 yen. For more information, call (03) 5777-8600 or visit www.tnm.jp