Dance fuses east and west
By Jeanine Soodeen, Goldstream News Gazette, April 5 2006
Vancouver, Canada -- Like Christo and Jeanne-Claude are to visual art, Bourget and Hirabayashi are to dance, producing site specific work in the Canadian Museum of Civilization's Great Hall, in a coal mine in Poland and on Vancouver's Wreck Beach.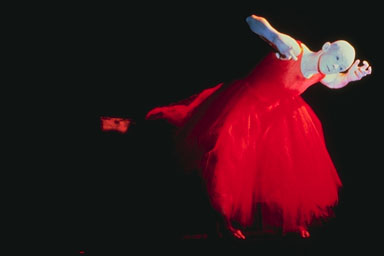 "Theatre is a place of magic. It doesn't matter if it's in a theatre per se or on a beach," Bourget said.
Barbara Bourget and Jay Hirabayashi both practise disciplines where each and every step is carefully thought out. However, they quite literally stumbled upon a form of dance that would transform their careers.
"It was an amazing performance. The quality of movement, the use of time very slow, very potent," said Bourget, artistic director of Kokoro Dance. "These images started to creep into our work. We identified this form, this idea, this concept dealing with the body.
"What we do is a fusion of Western and Eastern esthetic in dance. Butoh is a strong thread in our dance."
Kokoro Dance performs its signature work Sunyata at the McPherson Playhouse April 7 and 8 at 8 p.m.
"Typically audiences can expect something intense and unusual in the imagery presented, how we deal with space and time," said Bourget, who was born in Port Alberni, but spent much of her life in Vancouver.
Bourget's technical dance background includes years with the Royal Winnipeg Ballet and Les Grands Ballet Canadiens. Hirabayashi's approach is derived from years as a downhill ski racer combined with studies of Buddhist philosophy.
---
On the Web: http://kokoro.ca
---
"As an artist I really make use of everything. Everything is useful to what I want to express, even downhill skiing... The art of dance goes beyond the body, it is intellectual, physical, emotional. Butoh explores the metaphysical plane," said Bourget, following the second of two modern dance technique class held at Lynda Raino Dance studios last week.
Butoh has its roots in devastated post-Second World War Japan. In 1959, Tatsumi Hijikati performed a dance with Yoshito Ono that he would call Ankoko Butoh, "dance of darkness." The art form has since been developed not as a technique but rather an attitude that drives the dancer to discover his or her own way of dancing.
"Butoh is not about the place, but about the people who do it."
Sunyata is the Buddhist Sanskrit word meaning "emptiness." Sunyata, the dance, explores the cycle of rebirth for the Buddhist, with the premise that life is suffering and that the cause of suffering is desire. We are reborn again and again until we realize we can end suffering when we end desire. It draws its physical imagery from the work of French book illustrator Gustav Dore in his etchings of Dante's Divine Comedy.
"The piece is a trilogy. It is different states of being, purgatory, heaven or the inferno. It has a spirituality at its base. It doesn't matter what religion; everyone has an idea of these states of being."
Before a backdrop by artists Richard Tetrault and Thomas Anfield, and scored by Robert Rosen, eight Kokoro dancers move through an interactive set by Gerald King and Terry Podeauluk.
Tickets for Kokoro Dance's April 7 and 8 performances at the McPherson Playhouse are available at the McPherson box office by calling 386-6121.