Everything's illuminated in South Korea
Travel Bite, April 25, 2006
Seoul, South Korea -- At the end of April the communities of South Korea come together in a celebration of light and illumination for the Lotus Lantern Festival. The festival is held in recognition of the birth of Buddha, and dates back for more than 1,000 years.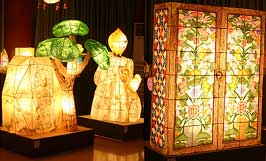 << Lotus Lantern Festival (photo: Tour2Korea)
The festival runs for three days between April 28th and 30th, but it is worth getting to South Korea's capital before the festival begins to see the illumination of the city hall plaza.
The city hall lighting ceremony takes place in front of the plaza on April 18th, and involves the illumination of an enormous light that symbolises the birth of Buddha.
If you are unable to make it to the capital this early all is not lost, as the lights are relit every evening until May 5th.
For the festival itself, visitors can choose to take in the celebrations in the capital or in one of South Korea's many villages, which also take the anniversary very seriously.
However, the celebrations are at their most grandiose and resplendent in Seoul, where partygoers can get in the mood at the Festival's Eve parade on April 29th.
The sparkling parade begins at Jogyesa Temple and flows through the street to Insadong, whetting spectators' appetites for the following day's light extravaganza.
On April 30th, children and adults alike come armed with their own handmade lanterns, which line the streets while the main Lantern Parade runs from Dongaemun Gate to Jogyesa Temple.
If you have travelled to South Korea without a lantern, do not worry as there is an exhibition of traditional lanterns at the Bongeunsa Temple, where you can pick up ideas and find out how to make your own lanterns the traditional way.
For more information on the Lotus Lantern Festival, visit http://english.tour2korea.com/
About the Lantern Festival
The Lotus Lantern Festival, celebrating the birth of Buddha, dates back to the Three Kingdoms Period (57 B.C. - A.D. 676). During the Goryeo Dynasty (918 - 1392), when Buddhism was the state religion, colorful lanterns were strung and festivities were held across the country from palaces to small villages. This traditional festival is enjoyed by all today.
The highlight of the festival is the evening Lantern Parade that begins at Dongdaemun Gate and makes its way to Jogyesa Temple. The glow of the colorful lanterns is brilliant. Visitors can also see an exhibit of lanterns and try to make their own lanterns to carry in the parade. Held for 3 days from April 28 to 30, this festival dazzles all with is vibrant palate of colors and celebratory atmosphere. Apart from this, the City Hall Lighting Ceremony will be held in front of City Plaza on April 18.