Permanent photo exhibit of Buddhist art inaugurated
by Pallavi Aiyar, The Hindu, June 1, 2006
Exhibition is part of cultural activities of Sino-Indian Friendship Year
Dunhuang, Gansu (China) -- Surrounded by the sun-baked, cracked earth of the Gobi desert, the Mogao Grottoes in China's northwestern Gansu province's Dunhuang county, constitute the largest and best preserved collection of Buddhist art in the world.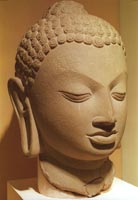 << Buddha Head. Photo by Benoy K Behl
It is here, at what was once a key stop on the ancient silk route connecting China to Central Asia and India, that Defence Minister Pranab Mukherjee inaugurated a permanent photo exhibition of Indian Buddhist art on Wednesday.
The photo exhibit titled "The Path of Compassion" is sponsored by the Indian Embassy in Beijing and is one of the cultural activities being undertaken during the ongoing Sino-Indian Friendship Year.
Speaking at the inauguration, Mr. Mukherjee said: "One of the most lasting contacts that has in some respects defined our [India and China's] relationship has been the travel of Buddhism and the message of the Buddha."
The Mogao Grottoes were constructed between the 4th and 14th centuries and comprise 492 caves with murals and Buddhist sculptures. The grottoes housed one of the most extensive collections of Buddhist sutras translated into Chinese from Sanskrit in all of the erstwhile Middle Kingdom. When the Chinese monk Xuan Zang (Huein Tsang) made his famous journey to India, he passed through Dunhuang on the way back.
---
Visit Benoy K Behl's website
---
The exhibition itself consists of pictures taken by photographer Benoy K. Behl whose lens documents the entire gamut of Buddhist art in India from the Ashoka period onwards.
Images from Spiti, Lahaul, parts of Ladakh and Sikkim highlight the levels of exchange and reciprocity that existed across the Himalayas, as Buddhism made its long journey over the mountains.
The images of the Buddha morph Chinese and Indian features, while the temples are neither stupas nor pagodas but a spiritually stirring amalgam. At the boundaries of civilisations, culture blurs in a far more subtle way than modern territorial borders would have us believe.
As India and China emerge from a period of mutual suspicion and hostility following the border war of 1962, this new exhibition is intended as a reminder to both sides of what once was. Mr. Mukherjee described his hopes for the exhibition as "an endeavour to restore and revive a very significant ancient link between our two peoples."