The Dalai Museum: Gaze navelly, paint globally
By DOUG HARVEY, LA Weekly, June 21, 2006
Los Angeles, USA -- The Tibetan lineage of Buddhism, rooted as it is in the variegated sensual traditions of tantric Hinduism and the Himalayan shamanic rituals of the Bon religion, is easily the most artistically bountiful of the lot, especially compared to the more stripped-down and pop-culture-familiar cosmology and aesthetics of Zen.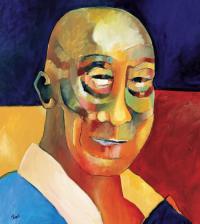 << Art and peace: Chase Bailey, Evolution into a Manifestation (2005)
Not only is Tibetan Buddhism chock-full of elaborately delineated demons, deities, heavens and hells — each lovingly illustrated across the centuries in sumptuous, psychedelic paintings known as thangkas; it also features prayer wheels and prayer flags and prayer beads, and kaleidoscopic mandalas made of paints, colored sands or yak butter.
The entire Tibetan culture was, up until the 1950s Chinese Anschluss, steeped in this ancient, deeply symbolic and collectively authored visual tradition. Sacred rituals still feature elaborate robes, headdresses, daggers, singing bowls, bells and giant trumpets, and esoteric choreography set to gut-rumbling, harmonics-laden drones and shamanic percussion. It is an overwhelmingly physical sensory heritage — doubly so for a philosophy based on transcending the illusions of the material world.
Small wonder then that, since it began receiving widespread Western attention in the 1970s, specialists in the illusions of the material world — artists — have been drawn to Tibetan Buddhism for its obvious comfort, even delight, in creative physicality (not to mention its queer-friendliness and the fact that it provides a surprisingly accurate conceptual template for acid trips). So it couldn't have been a tremendous challenge to assemble "The Missing Peace: Artists Consider the Dalai Lama," a patchwork traveling exhibit debuting at UCLA's Fowler Museum.
Contemporary Western Buddhist art is practically a subgenre of its own, and many of the regular suspects are included here — like Laurie Anderson, with a hypnotic "fake hologram" projection of herself in miniature, telling the story of her rat terrier Lolabelle's awakening to the higher power of the turkey vulture, or Bill Viola, with a typically elegant pairing of elongated, wall-mounted video monitors showing male and female figures cycling through their chakras in glorious black and white. Underrated Bay Area Funkatician William Wiley contributes a woven tapestry depicting a Serpent Frightened by Color, Abstraction and Time, while Yugoslavian performance artist Marina Abramovic activates an entire wall with the projected faces of 120 individually videotaped Buddhist monks and nuns chanting their prayers (very fine, but it deserves a darkened chamber and surround-sound system all to itself).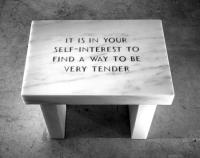 Jenny Holzer, from Selection From Survival series >>
(1983-85)
Curator Randy Rosenberg (assisted by 17 international advisers), having evolved from time spent steering the art collection of the World Bank (no friend to the Dalai Lama's anti-globalization message of local cultural autonomy), takes an inclusive, nonjudgmental path in her organizational duties, crowding 88 artists — many of them quite unknown — into two of the Fowler's three large galleries. Some of these less-famous artists are as good as or better than their art-star colleagues. Kisho Mukaiyama's pair of luminous wax-and-oil abstractions, Sanmon WCC — yupotanjyut nupotanje, are the only pieces in the show that stopped me dead in my tracks and silenced my chatterbox brain. A roomful of Buddhified cast ceramic replicas of disposable plastic water bottles by Yoko Inoue needs a little editing, but is surprisingly lyrical. Seyed Alavi's poetic reconfigurations of the familiar international pedestrian pictograms are powerful, well-designed and funny — even when extracted from their original site-specific installation on the utility boxes of Emeryville, California — but bear only a tenuous thematic connection to Buddhism or the Dalai Lama.
Other works can be a little embarrassing — the earnest collages, batik hangings, garbled installations and klunkily Modernist paintings that probably gained admission for their creators' overt affiliation with the Tibetan tradition or the progressive social and political agenda of His Holiness. Part of the difficulty lies in the wide net used to determine what it means to "consider the Dalai Lama." Some are straightforward portraits, like the beautiful photographs by Chuck Close and Richard Avedon. Others are a little more roundabout, like Sylvie Fleury's Kirlian-aura photograph of the Rinpoche's shoe, or His Holiness' own self-considering contribution to the show — an undated thangka depicting Avalokiteshvara, the bodhisattva of compassion from whom the Dalai Lamas are said to be reincarnated.
Many of the works connect through the illustration of Buddhist philosophy — compassion, impermanence, interdependence — or its secular ethical manifestation in the world. While this latter aspect is probably the main attraction Tibetan Buddhism holds for American liberals, it allows for the grab-bag approach to social and political commentary in the artwork included here, which ranges in relevance from the Taliban's obliteration of the giant carved Buddhas of Bamiyan and Tibet's precarious ecological future (though, tellingly, almost no open criticism of the People's Republic of China) to the Abu Ghraib prison scandal and the murdered women of Juarez.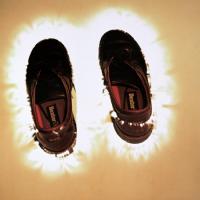 << Sylvie Fleury, Dalai Lama's Shoes (2005)
While some of these illustrative works are better than others, many display more of an eagerness to participate than an attention to process, which is something Buddhism is all about. The didactic, committee-driven model of communicating the dharma used to organize "The Missing Peace" probably addresses the widest possible range of viewer predispositions, but it inevitably dilutes the most potent artistic statements with more literal and more easily consumed testimony. I suppose the ratio of surprising, inspired, virtuosic artworks to filler is about the same as for most institutionally mounted group shows, but there is more at stake here than there is in the latest "painting may or may not be dead" museum survey — namely, the opportunity to awaken the public to the possibility of an enlightened geopolitical agenda rooted in contemplative spiritual practice.
While that is certainly a laudable ambition, I'm not sure it's a message that can survive watering down. A more attainable, and almost as urgent, goal would be to provide Western contemporary artists with a walk-through mandate for a deep organic connection between their disparate, relentlessly commodified practices and the two-pronged inner spiritual–global political arenas surveyed by the Dalai Lama's form of Buddhism. It's a mandate that appears in patches throughout "The Missing Peace."
When it does appear, it is momentarily enlightening and hearteningly energizing — but stretched thin and padded out as it is, the lightning bolt of creative awakening remains frustratingly elusive.
------------------------------
THE MISSING PEACE: Artists Consider the Dalai Lama | Fowler Museum of Cultural History, UCLA, 405 Hilgard Ave., Westwood | Through September 10