Cumbrians stage Buddhist Himalaya
Cumberland News, Aug 11, 2006
Cumbria, UK -- THROUGH many of its climbers, Cumbria has close connections with the Himalaya. One of the best known of these ambassadors, Doug Scott, is behind a nine-day festival of "culture, environment, heritage and spirituality" of Buddhist Himalaya starting today at Rheged, near Penrith.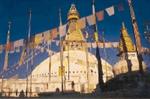 << Flying the flag for Himalaya: Photography at the Rheged show
Organisers say it is a "unique event of international significance", which brings together Himalayan experts, explorers and mountaineers – including Sir Chris Bonington – and a film programme showing Seven Years in Tibet and the best of Himalayan films from the Kendal Mountain Film Festival.
The heart of the event will be the daily Himalayan Fairtrade craft market, and the "Himalayan Eye" exhibition of photography by Doug Scott, Mel Gillies and David Oswin. There will also be a Rokpa slideshow. Rokpa – the Tibetan word for help – is an international charity working in Tibet.
This event is being run jointly by Rokpa UK and Community Action Nepal. Proceeds will support heritage and cultural restoration projects throughout the Himalaya and Tibet.
Buddhist Himalaya opens tonight at 6.30pm with a keynote speech on Tibet by Dr Akong Tulku Rinpoche, founder and president of Rokpa, and Lea Wyler, the charity's vice-president, who will speak on Nepal.
Tomorrow Professor Rob Nairn will set out on "The Road to Happiness: Introducing meditation" (at 5pm) and Sir Chris Bonington will discuss his travels in Tibet (at 8pm). On Sunday, Dr Mike Searle gives a lecture on the 50-million-year-old geology of the Himalaya (at 6pm) and there will be screenings of Himalayan films as part of the Kendal Mountain Film Festival (starting 7.30pm).
For a full programme visit www.rheged.com. Tickets can be bought online or by calling 01768 868000.