Buddhist bites
China Daily, Dec 1, 2006
Beijing, China -- Bodhi-Sake's narrow entrance is a bit forbidding. And rightly so it was a temple and nunnery for several hundred years. Now the houses in the two front courtyards are used as a restaurant, while the formal Buddha worshiping hall is preserved.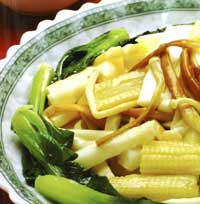 The houses have golden tiles and dark red girders, a sign of imperial privilege. They were built at a nunnery, where a Ming Dynasty (1368-1644) princess spent her life here as a nun. Known as the Three Saints Nunnery, it was later used as a residence for ordinary Beijingers until the Beijing government decided to preserve it as a cultural relic.
While spending money to rebuild it, the investment party turned the place into a quiet, beautiful vegetarian restaurant.
Dishes are elaborately presented and served in beautiful glassware and chinaware. Fo Bao, for example, comes to the table inside foil shaped like a boat, floating on a bowl of mushroom soup dotted with purple chrysanthemums.
The Chinese and English menu has colour photos and introductions for major dishes. There are imitation meat dishes, but also many vegetable dishes as well.
The vegetarian fish in spicy and oily soup, sea cucumber, as well as braised pork chops are worth trying.
Assorted vegetables, eight slices with mashed peanut, spicy tea tree mushroom with celery, and potherb mustard with soy bean make good accompanying side dishes.
After eating, it is worth walking around the yards to look at the architecture. There is a 400-year-old ancient Japanese pagoda tree in the backyard, which is said to help people connect with their beloved ones.
A Buddhist exhibition room illustrating the theory of fate is at the back of the yards, as well as a small bookstore selling books related to Buddhism.
Bodhi-Sake
Location: 200 metres to the north of north gate of Taoranting Park, 10-16 Heiyaochang Jie, Xuanwu District, Beijing, China
Tel: 010-63557348
Open time: 10am-10pm