Ani Tsering Wangmo, singing tunes to sacred Buddhist music
By Tenzin Dickyi, Phayul, December 4, 2006
New Delhi, India -- It is very rare to find an artist who gives away all of the proceeds from one's work for charitable causes. But Ani Tsering Wangmo is one of them who resonates traditional Buddhist chants and themes to help the poor and needy which makes her stand apart from the rest.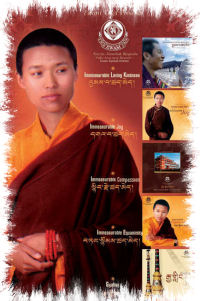 Ani entered the world of nunnenry at a very young age of twelve and since then she has been dedicating her life working on texts and teachings of Buddha. Currently, she resides at Ewam Sang-ngag Ling in Montana where she has learned English. She continues to support many other charitable cause. She recently lauched her Immeasurable collection of 5 CDs and the profits made by the sale of these CDs will be donated to three causes:
• a medical clinic in Tibet,
• the Yulokö Jetsun Ling Nunnery in Nepal,
• and the Ewam Magadha Garden of 1000 Buddhas, currently being built in Arlee, Montana.
Phayul caught up with Ani Tsering Wangmo on the internet to know what she has to say about her work and her personal views and thoughts that exudes her determination and commitments towards working so much for charitable causes.
1. First of all tell us something about your life?
I was born in Lhasa, Tibet and became a nun at the age of twelve.After fleeing Tibet in 1991 and arriving in Nepal, I had the good fortune to join the Yuloko Jetsun Ling Nunnery in Yanglashöe.
Upon completing the traditional three-year retreat in 1996, I began the ongoing Ewam Pecha (religious text) project, collecting and digitizing pechas at the wish of Gochen Tulku Rinpoche. Since then I have moved to the United States and studied English.
Nowadays, I live at Ewam Sang-Ngag Ling in Montana and continue to help as I can with Rinpoche's many projects around the globe. Also, in the past few years I have created several CD's of traditional Buddhist music. In 2004, I recorded "Laughter of the Dakinis," with melodies from the Longchen Nyingthig Chöe practice.
I have given several concerts in the US to increase awareness of the charitable causes which I support. In 2007 I plan to give more concerts in the US and elsewhere, including a concert in Hong Kong in January. I also intend to produce two more CD's, one here in the US and one in Nepal.
2.How did you initially get involved with the art of music?
I have always loved singing, since I was very young. It was my natural inclination which, with the influence of sacred Buddhist music, blossomed into a heartfelt joy in this form of expression.
3.Is it because of your love for music that you took up traditional Buddhist chants and themes in the form of songs?
With a great love for both music and for the teachings of Buddha, I was drawn to learn the beautiful songs which are part of the Buddhist tradition, just for my own enjoyment. Then, to aid Gochen Tulku Rinpoche's activities of spreading the teachings of Buddha and benefiting beings, I was encouraged to express these sacred songs so that others could, just by hearing them, receive blessings and generate compassion. This is especially beneficial for those who have little time for practice and study.
4.You are known as a singing nun which in a way makes you a celebrity. So how do you take it?
Maybe some people want to call me "the singing nun" or think that name is very important, but for me, it doesn't mean much. "Singing nun" or not, my purpose is to benefit my listeners by giving them the opportunity to hear these sacred prayers and to benefit my community by supporting charitable causes. If I can be of even a little benefit to a few beings, that's enough for me.
5.Working in the name of charity has become cliché in our community these days. What is your view on this?
I am just trying to have a positive effect, here in America and back home, in whatever way I can. This is the important thing. I have found that people are inspired by my music and want to help my causes, so I am happy with that. Therefore, it seems of little importance whether what I am doing is considered cliché or not.

6.All the profits from your work are donated for charitable causes. Any other way to use your fund in future?
The main purpose of my music is to support these causes. It is my wish that the profits from my work will only go to those who are in need. In the future I aspire to increase the number of different charities that I support, including homes for the elderly, poor, and orphans.
7.Tell us something about your first album "Turquoise Leaf"?
My first album, entitled "Turquoise Leaf," was produced here in the US. It is a collection of traditional Tibetan Buddhist songs, based on the chants I learned at my nunnery. Gochen Tulku Rinpoche asked me to create this album for the benefit of the people here in America. Rinpoche felt that this CD would serve as a useful study tool for learning the traditional prayers and mantras of this tradition. In addition, since the sale of this album supports Turquoise Leaf Nunnery, it benefits students of Buddhism in many ways.
8.Your latest released albums are out in the store now. What core message does these songs encompasses?
My most recent CDs have been created with the help of my good friends, the vocalist Tenzin Dawa and musicians Nhyoo Bajracharya and Rabin Darshandhari. I am very grateful to them for all their time, energy, and good advice. These prayers and mantras serve many different purposes, including bringing refuge and protection, increasing compassion, removing obstacles and difficulties, bringing an awareness of impermanence to the mind, and inspiring devotion.
9.What do you think about the general Tibetan contemporary music?
It is very good. These days there are many artists expressing the traditional Tibetan culture and religion accurately and creatively.
10. Any message to the young and upcoming artistes in exile?
Preserving our cultural heritage in exile is very difficult, but please keep trying and you will find that people will listen, people will be interested. It is so important that everybody do what they can to keep the traditions alive and make them available to communities all over the world. Thank you for aspiring to be a part of this effort!