Budhhist Grammy nominee enthralls music lovers with his chants
ANI, Dec 16, 2006
New Delhi, India -- Grammy nominee Lama Tashi has enthralled the audience here with the launch of his new album by the music company "Sa Re Ga Ma".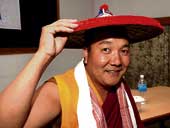 << Lama Tashi
Tashi's chants have got him nominated for the Grammy Awards.
Geshe Ngawang Tashi Bapu, as he is known to his friends, believes in the union of compassion and wisdom.
"When you listen to my chanting please listen with a good heart, a compassionate heart and love. I have been saying that with this chanting I have been expecting to send a message of love and compassion. With wisdom... whatever good qualities, but having a good heart is most important," said Tashi.
Odissi exponent Sharon Lowen said the 'multi-phonic' chants were a delight to listen to.
"It's quite delightful that the chanting is part of Buddhist practice at the same time, it is a musical form. It resonates for everyone whether you are there in a monastery in India or in Tibet or sitting anywhere in America and listening to it on CD," she said.
Tashi's voice has left scientists puzzled. Some of them have conducted tests and taken photographs of his vocal chords to investigate how he produces the 'multi-phonic' sounds, giving the impression that several singers are performing at once.
He is pleasantly encouraged by the popularity of his music in West, especially in the United States, where he has performed on several occasions.
He has also led 'multi-phonic' chants before the Dalai Lama, the spiritual leader of the Buddhists, and served as the Head Chant Master of the Great Prayer Festival in Washington.
This Buddhist monk from Arunachal Pradesh was nominated for his chanting Album "Tibetan Master Chants" in the "Best Traditional World Music Album" category, 2005.