"To Enlighten Sentient Beings": Calligraphy by Venerable Master Hsing Yun
Absolutearts.com, Jan 15, 2007
Hong Kong, China -- Venerable Master Hsing Yun is undoubtedly one of the most outstanding and influential Buddhist monks in the world. He was tonsured at the Qixia Temple in Nanjing at the age of twelve. In 1949, the Master arrived in Taiwan. In 1967, he founded the Fo Guang Shan monastery in Kaohsiung, Taiwan.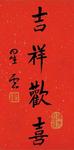 He established the Buddha's Light International Association in 1992 acting as its President. Over one million people have become members of the association under his leadership. In addition to establishing Fo Guang Shan branch monasteries worldwide, Venerable Master Hsing Yun has also set up Buddhist colleges, high schools, universities, publishing houses, teahouses, Buddhist art galleries, a television station, a newspaper, and a mobile medical clinic.
The Master has devoted much of his time to propagating the Dharma and to promoting "Humanistic Buddhism". Although he has had neither formal training in calligraphy, nor spare time to practice, his calligraphic works are in great demand. At the request of his devotees, he has produced a rich repertoire of calligraphic works on a wide range of subjects including encouragement to disciples, blessings to devotees, and Dharma phrases. In his heart, Master Hsing Yun hopes that his calligraphy can bring comfort and happiness to the masses and convey his blessings. The Master's works can be appreciated both for their artistic value and their spiritual value in propagating the Dharma.
Jointly organized with the International Buddhist Progress Society (HK) Ltd and Buddha's Light International Association of Hong Kong, this exhibition is a lively interplay of calligraphic art and Buddhist teachings. It features the Master's calligraphic works and includes a display of his letters to family members, devotees, and students; handwritten scripts of 2 publications, National Master Yulin and Biography of Sakyamuni Buddha.
If you go:
2007-01-13 until 2007-02-04
University Museum and Art Gallery, The University of Hong Kong
Pokfulam, , HK Hong Kong