Professor Shares Her Experiences with Peace Shrine in Turkey
University of Kentucky News, Feb 21, 2007
LEXINGTON, Ky. (USA) -- Doreen Maloney, associate professor of digital media at the University of Kentucky Department of Art, will give a presentation titled "Building a Buddhist-Inspired Shrine for Peace in Rural Turkey: Deism, Design and the Surprising Process of Public Art in a Class-based Society" as part of the Niles Gallery Series. The free, public lecture and digital presentation will begin at noon Friday, Feb. 23, in the Gallery of the Niles Center for American Music located in the Lucille Little Fine Arts Library.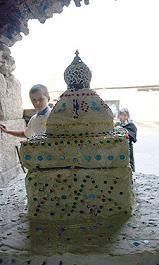 Maloney was invited to participate in a public art residency on the remote island of Golyazi, Turkey, and it was there that she built a small peace shrine, called an "adak" or "offering." The adak contains prayers of the people and children of Golyazi. Maloney completed the shrine on Sept. 11, 2006, and has dedicated the shrine to her cousin, who died in the Twin Towers on 9/11. Her lecture will be presented in conjunction with a digital media piece that captures the building of the Buddhist-inspired shrine.
Maloney's work is video-based and the subjects and concepts that she explores revolve around issues of identity and culture, death and presence, surveillance and privacy, the transmission of knowledge between generations, and of truth in personal history. She uses narrative structures to construct myths concerning her personal identity and uses the camera lens to catch change and transformation in everyday life.
"Moving images are designed as a meditation, a thought, or a series of images that cycle repeatedly," said Maloney.
Maloney's work has been shown internationally in Naples, Buenos Aires, Paris, Istanbul, and Havana, as well as throughout the United States. She recently worked at the Tribeca Film Festival in New York City and the Teknika Radica Festival in San Diego, as well as at the ARC Gallery in Chicago.
For more information on the " Building a Buddhist-Inspired Shrine for Peace in Rural Turkey " presentation or other Niles Gallery Series events, contact Ron Pen, director of the Niles Center, by phone at (859) 257-8183 or by e-mail.