Suitcase Treasures
By Adeline Chia, The Straits Times/ANN, March 8, 2007
Singapore -- When painter-calligrapher Tan Swie Hian was organising an exhibition in memory of respected senior Buddhist monk Venerable Kong Hiap, he found a wealth of artworks in the monk's house.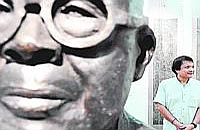 The works, by acclaimed Chinese artists and thinkers, were stuffed into crates, with 20 of the most valuable crammed into a suitcase.
Most were worm-eaten and some calligraphy works had tracing marks over them, a sign that someone might have tried to forge them.
The culprit was never found. But after 1 1/2 years spent cataloguing, restoring and mounting the works, 180 of the best ones are now on display at the Kong Hiap Memorial Museum.
It is Singapore's first Buddhist art museum and President SR Nathan opened it on Sunday.
The museum was renovated by the Singapore Buddhist Lodge for about SGD1 million. It used to be the meditation lodge and home of the late Venerable Kong, a respected senior monk in Southeast Asia and former president of the Singapore Buddhist Federation. He was born in China's Fujian province in 1900, and died here in 1994 at the age of 94.
The memorial museum is filled with rare artworks given to him by friends and disciples.
Among the highlights: a calligraphy work, Buddha's Five Sutras, written in his own blood in 1935 as a spiritual offering to hasten the recovery of his ailing master.
Another is Avalokitesvara Bodhisattva, a painting by renowned Chinese master painter Xu Beihong.
On the collection's worth, Tan, 63, who is adviser to the museum's planning and construction committee, said, "These are works by great spiritual masters, they are priceless and beyond market value."
Venerable Kong had turned down many offers in his lifetime for the works, including one worth SGD300,000 20 years ago for the Avalokitesvara Bodhisattva painting.
The museum will also become an important centre for Chinese scholars and Buddhists in the region, Tan said.
Mr Lee Bock Guan, president of the Singapore Buddhist Lodge and head of the museum's management committee, said, "This is a great legacy of Venerable Kong and a very moving tribute to the friendships he established in his lifetime."