Saving Dalai Lama's treasures
By ANN SHAFTEL, The Chronicle Herald, March 25, 2007
Small museum in Dharamsala houses impressive collection of Himalayan Buddhist art
Dharmsala, India -- IN FEBRUARY, while winter raged in Nova Scotia, I was working in the peaceful Himalayas, advising on the care of sacred treasures for museums and monasteries — Christian, Hindu, Buddhist and Sikh.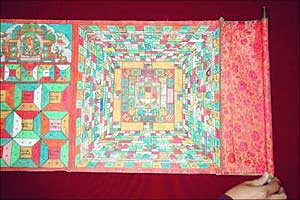 << The Dalai Lama owns this rare scroll that illustrates principles of Astrology. It is kept in the Library of Tibetan Works and Archives Museum in Dharamsala. (ANN SHAFTEL)
A last minute invitation came to provide advice for the Dalai Lama at his Library of Tibetan Works and Archives Museum in Dharamsala, in the foothills of the Himalayas in Northern India.
This small museum originated as a repository of art and artifacts offered to the Dalai Lama and opened to the public in 1974.
The museum's collection grew and now exhibits one of the most important collections of Himalayan Buddhist art in the world.
The art on exhibit includes paintings, sculptures made of wood and metal, and an intricate sculpture made of butter.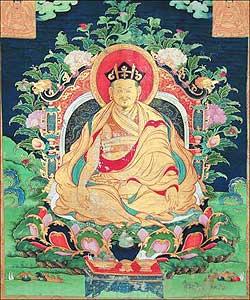 The pure gold in this painting of Karmapa Karma Pakshi, is flaking off. As a result, preservation work is needed soon. The painting is among the treasures to be found at theDalai Lama's Library of Tibetan Works and Archives Museum in Dharamsala, in the foothills of the Himalayas. (ann shaftel) >>
A large, intricate construction looks like a palace. It is a three-dimensional mandala (a geometric or pictorial design used in meditation).
There is also a mandala made from threads on an armature, and one fabricated of sand particles that is delicate and intriguing. These treasures have a wide range of technical requirements for safe display and handling.
Like so many small museums, funding is always a challenge.
This museum is part of a library complex that offers more than 80,000 manuscripts, books and documents in the Tibetan language and more than 10,000 books in English.
There is also an audio-visual and sound archive, photographic archives and departments for translation, oral history and publications, all vying with the museum for funding. The situation sounds similar to that of many local museums and historical societies in Canada.
Just as in many smaller Canadian museums, the staff is limited by the budget.
The museum staff consists of a highly educated director, Geshe Lhakdor, who previously served for many years as translator for the Dalai Lama. He is in charge of the entire library complex but is dedicated to upgrading the museum to professional standards.
His assistant is a young woman who is working on comprehensive documentation of the collection. The caretaker is an older Buddhist monk with a sharp sense of humour.
The museum has traditional painted wooden display cases and, due to monetary constraints, low light levels, which have helped to preserve the treasures.
Other things about this museum are somewhat different from their counterparts in Canada. For example, some of the museum visitors treat their visit as a religious pilgrimage and behave as one might in a Buddhist shrine hall, making traditional offerings.
Others are westerners who walk around the museum, looking carefully but not making offerings or bowing.
The museum caretaker, the traditional monk, offers incense, butter-lamp flames and sometimes edibles to the paintings and sculptures. This differs from Canadian museums, where burning candles 24 / 7 would not be allowed because of fire regulations. Museums and libraries around the world have similar needs at a time when there are so many other things vying for money and attention. However, it is also important to remember to preserve the past because it informs the future.
-----------------
Ann Shaftel is an art conservator with many years of experience working for museums, governments and private collectors.