Himalayan art shimmers in splendid new museum
By Michael Powell, THE WASHINGTON POST, Oct 24, 2004
NEW YORK, USA -- In this most cacophonous of American cities, transcendence is best accepted wherever found - perhaps even in ladies' lingerie.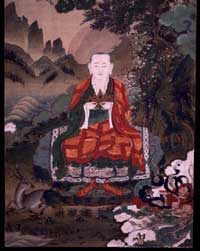 So one fine autumn day a visitor walks onto the sixth floor of the former Barneys department store. Not so very long ago this was a haute consumer shrine to overpriced negligees and silk bras; now a visitor finds "Methods of Transcendence," one floor in a splendid bathed-in-natural-light collection of Himalayan mandalas and thangkas and Buddhist statuary.
Buddha himself might chuckle at this spin of the cosmic wheel.
A marvelous institution has risen in the heart of the Chelsea neighborhood in Manhattan; occupying six floors and wrapped around a grand spiral staircase and a 25-foot-wide skylight, the sleek and handsome Rubin Museum of Art offers perhaps America's greatest collection of Himalayan art, more than 1,000 sculptures, tapestries, paintings and photographs spread over 70,000 square feet.
Inaugurated with drums and the unfurling of 100 locally designed Tibetan prayer flags, and a march down Seventh Avenue by 70 neighborhood dogs of Himalayan origin - yipping Lhasa apsos and solemn Afghan hounds with owners in tow - the museum opened its doors this month. Six years and $60 million in the making, it is the creation of Donald and Shelly Rubin, and more than 5,500 people visited in the first two days.
"The story of this museum is our conversation with our own mortality," says Donald Rubin. "Shelly and I talked about it, and we did not want to come to the end of our lives without leaving a legacy."
Theirs was an accidental passion. The Rubins were strolling Madison Avenue one day in 1974 when they wandered into an art gallery and spotted a Tibetan painting of a female Buddhist deity. Donald was at the time a 40-year-old health-care executive. He saw that thangka, with its radiant periwinkle blues and golden hues, and he was pulled to a stop.
"It spoke to me in a way that I could not imagine," recalls Donald Rubin. "We hung that painting in our bedroom and it radiated outward. I knew nothing about this art except that it felt like falling in love."
Grace and evil
For the next 30 years, Donald and Shelly built their managed-health-care network, Multiplan, and never stopped collecting Himalayan art, from Afghanistan to Tibet, Nepal, Kashmir India, Bhutan and Mongolia. Experts speak of the breadth and quality of their collection, and to an amateur's eye the Rubins' taste is exquisite. The couple take pains to describe themselves as enthusiasts rather than experts.
But their love affair with this art form is not so mysterious as Rubin's account suggests.
His father, Jay Rubin, was a Jewish immigrant who came here alone from his family home in Grodno, Poland. When World War II descended upon Europe, his family disappeared.
"Vaporized - every brother, sister and nephew and niece was exterminated," Donald Rubin says. "I was a 10-year-old at the end of the war, and I watched my father's anguish as he tried and tried to find them."
He says the experience has left him with an understanding of man's duality, his moments of grace and his profound capacity for evil. "Many American Jews went through this. It left a deep imprint. What is it in the human mind and the human heart that allows us to behave so barbarously?"
This after a fashion led him to an art mastered in remote Himalayan monasteries, in which every royal blue and brilliant red earthen hue held meaning and message for initiates. Tantric Buddhism acknowledges, even embraces, the darkest depths of the human psyche. So their art is filled with ferocious-looking demons, many-armed blue creatures with vast teeth, the better to devour our own demons of ego and jealousy and anger, and safeguard dharma, or the teachings of the Buddha.
The museum deals quite directly with the darker side. A visitor to the fourth floor (each floor is shaped like a mandala around that central staircase) finds the Demonic Divine: Himalayan Art and Beyond, which is thick with deities with ashen-white skull faces and mesmerizing eyes. Skeletons dance, demons make love, and often they are our protectors.
A high temple
"I love these guys," curator Carom Smith says as she leads a visitor to one of her favorite paintings, "Shinpoi Tsomoo" ("Mistress of Demons" to those who know her). Shinpoi has daggers and fangs and she's attacking and eating a half-dozen many-headed zombies, all the while overseen by a beatific Buddhist teacher. So macabre, and yet ... "They're the medicine protectors," Smith says.
Smith explains the back story. Tibet in the 1800s was beset by plague; tens of thousands were dying. So the dalai lama created a female protectress - one of the medical tantras - to devour and behead the demons of disease and hunger. (As with almost all of the art in the museum, the artist who gave color and form to the dalai lama's creation is unknown; in a Buddhist rejection of ego, the artists did not sign their paintings.)
Rubin settled on Barneys much as he came to collect Himalayan art - by accident. He was stuck in a taxi in traffic in 1996 when he noticed a bankruptcy notice pasted to the door. Once it had been a high temple of consumerism for the dollar-engorged. Rubin called a real-estate agent, got a tour and made an offer on the spot.
This was not the end of the story. As this is real estate and New York, and not a monastery in Tibet, abnegation of ego was not an option. Rubin had battles over design and construction, and one year slipped into the next. But the result is transcendent. A visitor enters into a backlit cloud wall, and then walks around the corner to the curling marble staircase, a six-story atrium topped by a 25-foot-wide elliptical skylight.
Rubin couldn't be more pleased. "I saw an art that was magical and transformational and could stand on its own without apology, and now I've given back some of that."
And what of him? Have all these portraits of perfect beings and sacred passages led him closer to the transcendent? Rubin shrugs - he reads in Sufism and Buddhism and Jung, but he claims no grand enlightenment.
"It's made me less demonical and more philosophical. The art has given me a chance to understand the human condition more deeply, and it's better than psychotherapy."
Detail of one of the exhibits at the Rubin Museum of Art that embraces human duality and mortality. Illustrates ART-HIMALAYAN (category e), by Michael Powell © 2004, The Washington Post. Moved Friday, Oct. 15, 2004. (MUST CREDIT: photo copyright the Rubin Museum of Art).
Each floor of the Rubin Museum of Art in New York's Chelsea neighborhood is shaped like a mandala around the central staircase. The museum is devoted to the work of Himalayan artists. Illustrates ART-HIMALAYAN (category e), by Michael Powell © 2004, The Washington Post. Moved Friday, Oct. 15, 2004. (MUST CREDIT: courtesy of the Rubin Museum of Art).
Most of the museum's art is unsigned in keeping with the Buddhist rejection of ego.
Each floor of the museum is shaped like a mandala around the central staircase.