Photographs capture unseen
By Anne Ford, Chicago Tribune, May 25, 2007
Chicago, IL (USA) -- A relatively new art form in Shambhala Buddhism finds beauty in pictures of the inconspicuous.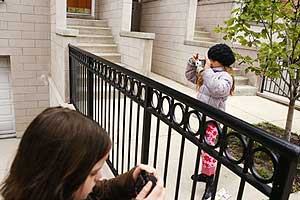 << Laurel Hill, 12 of Evanston, left and Morgan Reesh, 7 of Chicago participate in Miksang, the Tibetan Buddhist art of contemplation while taking photos, through a class at Shambala Meditation Center in Chicago.(Tribune photo by Nancy Stone)
"Check it out!" hollered Laurel Hill, 12, of Evanston, brandishing her digital camera on the sidewalk outside the Shambhala Meditation Center of Chicago in Rogers Park on a recent Sunday.
"That is the most awesomest picture ever, ever, ever!"
Instructor David Schreier, 43, of Rogers Park looked at the shot on her camera screen -- a close-up of a teal and navy triangle pattern decorating a black car door -- and nodded. "You've got that good eye," he said.
It wasn't an idle compliment. "Good eye" is the translation of the Tibetan word "miksang," the name of a form of photography that represents one of the newest contemplative arts in the Shambhala Buddhist tradition. Laurel was one of five pupils in Schreier's first miksang workshop for children held at the center this month.
Miksang students try to capture, through photography, unexpectedly rich glimpses of color, texture and patterns in objects that most of us overlook. As in other Buddhist-inspired art forms, the goal is to wake up practitioners to the beauty and vividness of the universe.
"It's about directly perceiving our everyday world," Schreier said. "It's a matter of seeing how vibrant and fresh everything is."
A blue water-bottle cap in a patch of grass. A rusty metal pole. A bit of red elastic abandoned on a sidewalk. In miksang, these and other seemingly insignificant objects can jolt us into mental and spiritual clarity, Schreier said: "A strong miksang shot freezes your mind, stops you where you are and almost takes your breath away."
Unlike ancient contemplative practices such as haiku and ikebana (flower arranging), miksang has been around for only a couple of decades, and thus isn't nearly as well known.
Schreier, a consultant to nonprofit organizations and Chicago's only miksang instructor, is working to change that. A few times a year he offers miksang classes for adults at the center, where he also teaches beginning meditation. More children's miksang activities are in the works as well.
At the first session earlier this month, Schreier explained that in miksang the goal is not to create a nice snapshot but to experience the world in a direct, vivid way without judgment. "Color's not good or bad, right?" he said. "Color's just color."
Because of their natural curiosity, Schreier said later, children often have a better grasp of miksang than adults do. Beyond a few basics, no technical camera expertise is necessary.
Miksang stems from the teachings of Chogyam Trungpa Rinpoche, founder of the Shambhala Buddhist tradition. Shambhala Buddhists believe that by practicing moment-to-moment awareness through meditation and contemplative arts like miksang, they can help create a compassionate and enlightened society.
John McQuade, a student of Trungpa Rinpoche, created the miksang practice with fellow student Michael Wood in 1983. Miksang teachers must be trained and authorized by McQuade and the Toronto-based Miksang Society for Contemplative Photography. Schreier is one of only a dozen or so instructors in the world, seven of them in the United States.
Miriam Hall, 30, of Madison, Wis., regularly teaches miksang courses for adults at Shambhala centers in Milwaukee and Madison. Most of her students aren't Buddhist: "They like the idea of Buddhism, but when it comes to sitting there [in meditation] and staring at your socks, they kind of freak out."
That's where miksang comes in handy, she said. It can provide another way for people to practice mindfulness. "What miksang appears to do for people is transmit a sense of appreciation, of joy, of excitement about life, of connection to things as they are," Hall said.
Or, as Laurel put it in Schreier's workshop, "You see a car and you know in your mind that it's red, but you don't really see it, and then you're like, 'Oh! It's red!'"
In spring 2008, Hall will teach the first college course on miksang at Milwaukee's Marquette University. In the meantime, she helps administer a miksang forum at Flickr.com, where practitioners can post and discuss their photos.
At Schreier's recent Sunday workshop, the children eagerly snapped photos of whatever colors, patterns or textures jumped out at them as they strolled the sidewalks around the center.
Greenwood Champ, 10, of Evanston, repositioned an abandoned CTA card so he could get a better photo of it. "That's great, but that's not a miksang shot," Schreier reminded him. Only candid shots qualify -- no posing allowed.
The youngest member of the class, Morgan Reesh, 7, of Humboldt Park, was one of the most avid. She took photo after photo with a disposable camera Schreier had provided, too wrapped up in miksang practice to chatter with the other kids.
After the photo session, Schreier took the children back to the center to review their shots from the previous class. One of Morgan's -- a picture of a tattered strip of caution tape -- won high praise.
"It's nice, it's simple, it's clean, it's got some space to it," Schreier said. "You see how the shadows are surrounded by that yellow tape? Really nice job, Morgan."
Morgan's mother, Melissa Reesh, 37, said studying miksang has had a good effect on her daughter.
"She can be kind of shy, so it was encouraging to me that she just got right into it," Reesh said. "It's freedom of expression for her in a calm, centered place. I guess I'm going to have to get her a camera."
An "Introduction to Miksang" workshop for adults will be held Aug. 25-26 at the Shambhala Meditation Center of Chicago, 7331 N. Sheridan Rd. The cost is $125. Call (773) 743-8147 or visit www.chicagoshambala.org.