Exhibition Explores Sacred Practices of Tibet Through Exquisite Paintings of Rituals and Ceremonial Implements
The Buddhist Channel, June 2, 2007
Exhibition explores Tibetan art intended for ritual use. It reveals the coded meanings not only of Tibetan ritual implements, but also paintings, sculptures, textiles, prints, and the altar itself.
Philadelphia, PA (USA) -- This summer the Philadelphia Museum of Art presents an exhibition of rarely seen Tibetan-Buddhist ritual images and implements. Tibetan Ritual Arts is the second of a two-part series of exhibitions dedicated to introducing the Museum's recently acquired land newly conserved Tibetan-Buddhist domestic altar.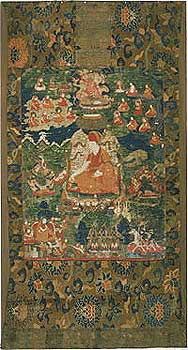 << Sakya Raktayamari Initiation with Lineage and Landscape, c. late 17th - 18th century
Tibet
On view from June 2 to November 30, 2007 in Gallery 232, it will include slightly over 50 objects drawn from the Museum's outstanding collection of Himalayan art. "The paintings on the altar inspired the theme of this exhibition," said Associate Curator of Indian and Himalayan Art Katherine Anne Paul. "Outside of Tibet, it is quite rare to see images of ordinary people performing rituals. The altar's painted decoration and the implements displayed in the niches provide an exceptional window into popular Tibetan-Buddhist rituals."
Each day Tibetans present offerings of incense, food, and light to deities enshrined in altars?both in temples and in private homes. On special occasions, people give white or yellow katak scarves. The paintings which decorate the altar illustrate a husband and wife offering katak scarves to their family's protector deities while many of the objects displayed within the altar represent sense offerings ( sight, smell, sound, taste, and touch represented by butter lamps, incense holders, musical instruments, ceramic fruit, and cloth ) necessary for worship.
Other ritual implements displayed in the altar and in most Tibetan paintings are so specialized and obscure they often baffle non-initiates. The Museum owns a range of ritual implements from a silken ritual cover and golden diadem to a skull cup and a sorcerer's horn all of which also will be on view. On display for the first time is a 2005 gift of the Young Friends of the Museum: a Tibetan-Buddhist ritual textile.
Amid a bright patchwork of small silk squares, an "endless knot" pattern signifying eternal continuity decorates this elaborately appliqud cover. The cover is itself a ritual offering and may be used to adorn either an altar or a ceremonial throne, as is demonstrated in an extraordinary late 17th-century painting on cloth, Sakya Raktayamari Initiation, which will be installed nearby.
As its title implies, Sakya Raktayamari Initiation illustrates the ceremony during which monks enter into the worship of the life-prolonging deity Raktayamari. At the center of the painting a monk officiates, pouring a golden libation over the young initiate seated in the lower-left corner, who is surrounded by bolts of silk, stacks of books, a bundle of rolled paintings, and stuffed brown sacks given by the initiate to finance this expensive ritual. The painting is inscribed at the bottom with name of the individual in whose memory the painting was commissioned, and reads in part: "We supplicate to be sheltered in all our coming lifetimes and be purged of all our negativities that would prevent a good rebirth and our attainment of enlightenment!"
Viewed together, the majestic altar, exquisite paintings, ritual implements, books, and sculptures in the exhibition provide intimate glimpses into the rich ritual life of Tibet. The Museum's website also offers an expanded overview of the altar its conservation, cultural context, and imagery.
About the collection of Indian and Himalayan art
The Philadelphia Museum of Art contains one of the finest collections of South Asian art in the United States, including the spectacular Pillared Temple Hall ( 16th century ) from Southern India, paintings and sculptures from India, Pakistan, Bangladesh, Afghanistan, Nepal, and Tibet; an important group of textiles; and a variety of decorative arts. Works from the Indian and Himalayan Art Collections are displayed in a series of galleries ( 224, 227, 229, 232 ) located on the second floor. The William P. Wood Gallery houses changing installations of 16th- through 20th-century art from India, Pakistan, and Bangladesh. Gallery 232 is devoted to works from Nepal and Tibet.
The Philadelphia Museum of Art is among the largest art museums in the United States, showcasing more than 2,000 years of exceptional human creativity in masterpieces of painting, sculpture, works on paper, decorative arts and architectural settings from Europe, Asia and the Americas. The striking neoclassical building stands on a nine-acre site above the Benjamin Franklin Parkway and houses more than 200 galleries. The Museum offers a wide variety of enriching activities, including programs for children and families, lectures, concerts and films.
For additional information, contact the Marketing and Public Relations Department of the Philadelphia Museum of Art at ( 215 ) 684-7860. The Philadelphia Museum of Art is located on the Benjamin Franklin Parkway at 26th Street. For general information, call ( 215 ) 763-8100.