Inspiring artworks
By MAJORIE CHIEW, The Star, June 4, 2007
Art collector Jacob Chan appreciates fine artworks and has an impressive collection. He also wants to share them with others.
Seri Kembangan, Selangor (Malaysia) -- NINE years ago, businessman Jacob Chan Teng Meng had a near-death experience. Diagnosed with dengue shock syndrome, he was in a coma for five days, and spent two weeks in the intensive care unit of a private hospital in Kuala Lumpur.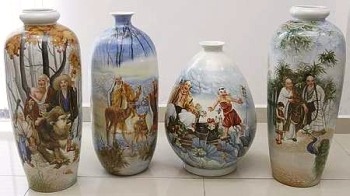 << Intricate: Porcelain vases with handpainted images of Buddhist art, from Jingdezhen, the capital of ceramics in China. – Picture by KEVIN TAN / The Star
At one point during that period, "I felt like I was being sucked into a vast and bright light tunnel," recalls Chan, 55. "At the end of the tunnel, I saw a shining image of Buddha. At that very moment, I felt drawn back into this world.
"You can say I died and came back. I was given a second chance at life."
Mindful of how Buddha had "saved my life", Chan began doing charity work, in the hope of being blessed with good karma. Today, he is the director of Yayasan Maha Karuna, a foundation for the poor in Subang, Selangor.
After that turning point, Chan began collecting Buddhist artworks made of ceramics and porcelain.
His affinity for those materials comes as no surprise: he has been an importer of chinaware, and glass and crystal wares for 40 years. Today, Chan is still adding to his collection.
Why fragile porcelain – which breaks easily – and not sturdy wood?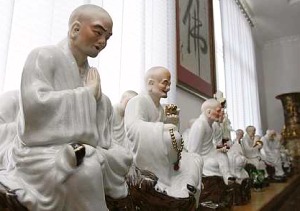 Exquisite: Porcelain sculptures of the 18 Lohans or Arhats >>
"Every piece of porcelain is made from clay, which undergoes a firing temperature of 1,350°C to become fine, quality porcelain. Sometimes, after decoration, the porcelain goes through a second firing of 850°C to get the colour into the porcelain," Chan explains.
"Porcelain is very strong and scratchproof, " he adds, pausing to scratch the surface of one such artwork.
"Although porcelain artworks are expensive, they appreciate every year. They may be fragile, but they last for thousands of years."
Wood sculptures do not excite Chan as much. At his office in Balakong, Seri Kembangan, Selangor, he points to a framed woodcarving, which he'd bought 10 years ago.
"See, the top of the wood has shrunken from the edge, revealing a gap." Wood also deteriorates with age and can crack. Even glass, when kept for a long time, can turn foggy, he adds.
Chan is very proud of a porcelain sculpture in his collection, called Flying Fairy Scattering Flowers. He took out a catalogue and pointed to a picture of works by renowned ceramics master Liu Yuanchang, who is in his late 60s.
"This sculpture is similar to another sculpture by the same artist that is exhibited in Beijing Museum," says Chan, beaming with pride.
Another Liu masterpiece, The Ox Lying Prone, in matt black glaze, is kept in a glass showcase in Chan's office. Visitors often pause to admire the ceramic and porcelain works he exhibits on cupboard tops, in cabinets, on the wall and even on the floor.
Last year, Chan commissioned some porcelain artworks from Jingdezhen in Jiangxi province, China. Jingdezhen city boasts a 1,700-year history in ceramics making. Also known as Xinping, it is the homeland of porcelain manufacturers and porcelain art. Pottery that was first made there in the Han Dynasty (206BC to 220AD).
He first visited the city about 15 years ago, on business. "Jingdezhen is known for innovation in porcelain works. In the olden days, it had the most valuable, best quality porcelain. Now, the porcelain masters make novelty items (commissioned works) and there are thousands of factories there," he says.
The works Chan commissions are based on designs from old books and replicas of temple art from China. "Once, I took a Chinese artist to a famous temple in Shanghai so that he could reproduce replicas of the artworks," he reminisces.
About 100 items from his collection will be on display at the Buddhist Culture & Arts Festival 2007, which opens in Selangor on Wednesday. They come from China, Taiwan, Sri Lanka and Myanmar. Chan hopes the exhibits will help promote the understanding of Buddhist culture.
Among his latest prized possessions is a porcelain artwork depicting 500 Arhats, which took its artist six months to complete. The painting, of a celestial scene, was done by hand and "is the one and only piece in the world."
He seems to be smitten by the 500 Arahants or Arhats (in Pali and Sanskrit, respectively, meaning the enlightened disciples of Buddha): he commissioned an urn measuring 1.2m in diameter decorated with the Arhats and has a snuff bottle that features them.
One of his latest acquisitions is a string of 500 crystal beads depicting the Arhats. Each bead has a miniaturised painting of one Arhat, painstakingly done using a unique technique.
Chan's porcelain sculptures of the18 Lohans (or Arhats) are also close to his heart. He has many sets, and nine will be shown at the exhibition.
Lohans are said to be followers of Buddhism's "Eightfold Path" who have attained nirvana, the state of absolute freedom from worldly cravings, and are no longer subject to reincarnation. They are akin to guardian angels who ward off evil.
Figures or paintings of the 18 Lohans usually adorn the entrance of Buddhist temples. It is believed that they enable devotees to open themselves to meditation and spiritual exploration. Originally, there were only 16 Lohans; two were added during the Tang dynasty (618AD to 907AD), and the first paintings of the 18 Lohans were created then.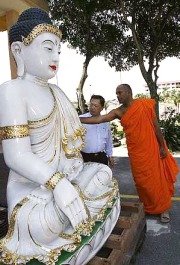 << Clad in white: Jacob Chan and his guru, chief monk of Sri Lanka Buddhist Temple in Sentul, KL, Ven B. Sri Saranankara Nayaka Maha Thero, who is also the Chief High Priest (Judiciary) of Malaysia, admiring a white jade Buddha image from Myanmar. – Picture by KEVIN TAN / The Star
At the festival, visitors can also see porcelain artworks of the Goddess of Mercy (Guanyin), which are rarely exhibited. Guanyin (which means Enlightened One) is venerated by East Asian Buddhists.
Devotees claim she often appears in the sky or on the waves to save those who call upon her in times of danger. Childless couples offer her prayers as she is believed to be a bestower of children.
Chan particularly likes one Guanyin porcelain painting that depicts her with a dragon and two cherubic kids. Another painting shows her at sea, floating just above a red carp.
He also has a porcelain sculpture of Guanyin with One Thousand Hands. She is symbolic of the omnipresent mother, looking in all directions and sensing all afflictions.
Now a Buddhist festival would not be complete without Buddha images in various forms, Chan has a 24-piece set of porcelain paintings depicting the Chinese version of the Buddha's life story. These were made following photos from old temples in China. He also has two porcelain artworks of the Buddhist sutras.
On the grounds of Chan's factory are large Buddha images in white jade, custom-made in Myanmar. These statues are embellished with gold paint and colourful semi-precious stones.
"I extracted photographs of the Buddha images from old books in Shanghai and had them made," he says. He plans to donate some of these statues to temples after the exhibition.
From Myanmar, Chan managed to source 49 canvas paintings that record the life history and eight victories of Buddha.
"These paintings needed special approval from the Myanmar Government before they were allowed out of the country," he says.
He also collects teapots and bonsai plants.
"There is no room to display my teapots which I keep in cardboard boxes. Sometimes, I would take them out to observe their intricate handiwork. It's soothing."
He didn't hesitate to open one box from among dozens stacked in a corner of his office. After showing me a teapot with bamboo design, he took out another which has Buddhist sutras written on it.
Then, ever respectful of Buddhist practices, he says: "My wife and I often wonder if it is all right to serve tea in such a teapot."
Having been given a new lease of life, Chan wants to live it to the fullest. Each day, he grows more passionate about his Buddhist artworks. But even as he indulges in his passion, he does not forget to give back to society.
--------------
The Buddhist Culture & Arts Festival 2007 will be held from June 6 to 10 at the Malaysia International Exhibition & Convention Centre in Mines Resort City, Seri Kembangan, Selangor. Opening hours are 10am to 10pm daily. Admission is free.