Encountering Buddhist spirituality
Lanka Daily Newsm June 13, 2007
Colombo, Sri Lanka -- Dhanushka Amarasekara, creative director cum photographer, will be holding an exhibition of photography titled "The eye of the beholder" at the Barefoot Gallery from June 13 to 24.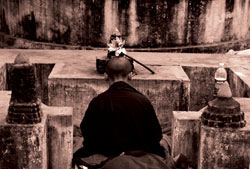 A number of black and white images based on the concept of Buddhist spirituality will be on display.
Dhanushka had spent a couple of months venturing through the holy cities of India: Bodh Gaya, Varanasi, Rajgir and Nalanda, in her quest to capture what she described as "the untouched spirituality which almost seemed to belong to a different time zone."
"I attained higher education in Australia. I started out as a painter and then I turned to sculpture. Later I became a creative director at Liquidmedia," expressed Dhanushka who had now become a full time photographer.
"I was very good at life drawing. The human figure captivated me. Therefore my earliest work was based on male nudes and homosexuality."
The change of theme occurred due to attending the Khoj International artists residency programme held in New Delhi in 2006. Dhanushka had close contact with the sacred places where the Buddha had set foot.
"These photographs are done mainly due to my interest. I felt quite comfortable approaching the subject. The shooting style is more documentary as I did not use models as I did in my past work.
I spent at least a month travelling around the same areas, trying to capture the perfect image. Sometimes the light was bad because it was the winter period but I did not use any form of artificial light," she explained adding that though she had turned towards a different theme, she had not given up nude photography.
"I had to possess the sensuality to recognise exceptional images. That took a bit of time and it is not easy to engage in this, especially when you are a woman."
Dhanushka had taken part in several group and solo exhibitions held in the island as well as abroad. Her work is also on display at the Harold Peiris Gallery and 12 of her images will be exhibited in Frankfurt.
"This exhibition is my first step towards the subject. This is not the complete work but work in progress. Dominic Sansoni is my inspiration. As the title, "The eye of the beholder", suggests, my viewers are free to feel and experience my work. I hope the exhibition will become a success," she said, smiling.