Realm of imagined space ...
Deccan Herald, June 17, 2007
Mumbai, India -- In his recent works, Babu Eshwar Prasad unravels the mysteries of imagined space and inscrutable time, says Giridhar Khasnis.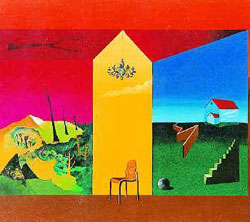 << "Make Yourself at Home", acrylic on paper ... curious paradoxes.
Babu Eshwar Prasad is among the young artists of the country whose images have encompassed colourful landscapes, intriguing interiors, intrusive (and often dramatic) settings, and compelling mindscapes.
Tracing a slightly altered but equally stimulating itinerary, the Bangalore-based artist in his recent works has journeyed through the mysteries of imagined space and inscrutable time.
In them, Babu plays with possibilities of spatial illusion: creating rooms within rooms, opening and closing doors/windows, expanding and shrinking space in cleverly orchestrated constructs.
In his imagined interiors, the artist reveals invigorating elements of both external and internal worlds. At the same time, his motivation seems to look at each location as an installation, exploring the notion of space often through emptiness.
"Like in a Zen story where one goes through several plots and episodes, but at the end of it all, there is nothing but emptiness, the concept of time and space is rather vague and paradoxical," reveals Babu.
"While there is a physical space – it could be a room, museum, art gallery, classroom, and town hall – there is also a space where a personal journey is undertaken, memory refreshed, and history revisited.
In creative terms, the issue becomes complex. For instance, the image of Buddha has been used so often by so many artists that it has almost become a cliché.
So, when I decide to feature Buddha in my painting I am taking a great risk. I will have to locate him distinctly – it could be the side profile of an effusive sculpture (Laughing Buddha), an extreme close-up of his eye/ear, or the empty space of a Bamiyan cave.
I have also to place him in a time-space context. Each location, each moment thus holds possibilities of becoming an installation by itself."
Contradictory citations
Art historian at Shantiniketan, Anshuman Das Gupta feels that Babu addresses the contradictoriness between phenomenon, experience and their representations, limited by space-time coordinates and rationality, or even logos.
"His work is a principality of contradictory citations where images are received like a moment of revelation, like a momentary feeling, on the neutral walls of the pavilions he is building," he explains.
"Babu approaches his project via the fragmentary – small and daily objects from the known world of his own, combining them with the objects that share unknown and ambiguous status, from the history of significant images.
They involve a viewer for a few seconds and then it is a memory play, after which there is coming back to the images again, moving back and forth.
" Babu's references – which appear to be fragments snatched from a quotation, a book, a film, art history, or his own personal tours and travels – pay tribute to his heroes belonging to diverse fields of arts, politics, humanity, and cinema.
If Buddha's thoughts and images seem to be repeatedly embraced, Mahatma Gandhi, Luis Bunuel, Num June Paik, Rene Magritte and others become much more than mere allegorical quotations.
In many of Babu's works one can sight a duality of stillness and movement.The room may look very silent, empty and tranquil, but in it one can feel the making of physical and cerebral turbulence as well.
In 'The Room is empty, And the Window is open', the unoccupied cot and bed on the floor, a paraglider in the window and a junk yard in another opening carry several connotations at the same time.
In the work titled 'Burning Monk, Laughing Buddha and Junk Garden', a couple of TV screens, one showing a laughing Buddha and the other, a burning monk make forceful commentary.
Sealed objects
If the image of a TV set comes through in many of Babu's works, in some others, the reflection of projected pictures is striking: like the slicing of the eye, a famous image from Luis Bunuel film, Un Chien Andalou, Magritte's painting of a pilotless aircraft and the ancient Chinese tree … all reinvented and re-presented.
The artist also betrays a fascination with sealed objects. "A sealed cover or an envelope, for instance, always attracts me," says Babu.
"There is something mysterious about such things. I try to use such imagery to create and retain the curiosity – for myself!"
True to his word, in one of the paintings, Babu shows a veiled painting on the wall and one doesn't know what it actually contains. In another work, the television set is placed in such a way that the viewer gets to see only its behind – what is on the screen will always remain a mystery.
Babu's works are not just work and no play. There are several elements of playfulness in his interpretation of, say, an art gallery.
Days left behind
Here even an anthill becomes an exhibit! Or a set of moulds for sculpture can stare at a black hole! In 'Little Pins of Memory', he goes back to his days as an art student, where the wards would sit on 'donkeys' to paint portraits.
Anshuman finds that the works of Babu, as gleaned via an unlikely combination of an imaginary watchman and a pondering critic, stands out as painterly, cinematic and stark. "He is also an author who may have a secret scheme of destroying the standard beliefs in certainties," he says.
"(Babu creates) a world of references without end, where one can only entrust emptiness, disbelief and conundrum of meanings, and a space where time becomes an inexhaustible trope, where hopes never dry up…"
-------------------------
Babu's exhibition titled 'Time past, Time present, Time to come…' is currently on at Bodhi Art, Kala Ghoda, Mumbai till June 30.