The many faces of Buddha
By Jessica Ravitz, The Salt Lake Tribune, Sept 7, 2007
UMFA sheds light on the icon through a 'thousand years of art'
Salt Lake City, Utah (USA) -- Unlike Botticelli, Michelangelo and Leonardo, these artists are unknown. They sought neither fame nor financial reward; their goal was spiritual fulfillment.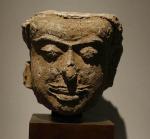 << From Thailand, dating to the Khmer period (1100-1200), the... (Trent Nelson/The Salt Lake Tribune )
By creating images of Buddha, artists learned his attributes and became enlightened, says Luke Kelly, associate curator of ancient art at the Utah Museum of Fine Arts. The finished works, in turn, helped others grow spiritually.
Strolling through Salt Lake City's UMFA, visitors today are greeted by Buddhas and Buddhist objects - as well as Hindu items - spanning some 1,400 years. More than 30 pieces are within "Passion of Form," an exhibition of Southeast Asian art from the MacLean Collection. The others are part of the museum's permanent Asian art collection.
"The wonderful thing about depicting Buddhas is you really can't get it wrong," Kelly says. "Each culture uses the same frame but adds its own twist."
The first known Buddha renderings appeared in the first and second centuries, about 500 years after Siddhartha Gautama, the Supreme Buddha and founder of Buddhism, walked the Earth in ancient India. Though not on display at the UMFA, Kelly says these Buddhas cropped up in Gandhara, modern-day Pakistan, wearing togas. This image, he explains, reflected the lasting influence of Alexander the Great's fourth-century B.C. invasion of the region and the Greek culture that infused the Persian Empire.
As Buddhism spread out of ancient India - northeast to Tibet, the Himalayas, Nepal, over to China, Japan and Korea; and by way of merchants traveling trade and silk routes to Southeast Asia - it morphed into various schools and images, Kelly says. There's the 18th- to 19th-century Sino-Tibetan multi-armed Tantric Buddha, for example.
Artistic depictions of Buddha and Hindu deities also took on the facial features of the people living in the lands where the depictions were made. A Buddha created in Japan, and shown in the "Journey through Asian Art" exhibit, is undeniably Japanese.
Mixed in are pieces reflecting Hinduism, which greatly predated and then coexisted with Buddhism. There's a 12th-century Indian sandstone Vishnu, one of the predominant Hindu gods, surrounded by his incarnations. A ritual bell from 12th-century Cambodia, used during meditation to help reach enlightenment, features the Hindu deity Ganesha in the form of an elephant.
One can see Buddha depicted in various positions, having achieved enlightenment and "just as he's about to close his eyes for the last time," Kelly says.
There are miniature temples, guardian lions meant to ward off evil spirits and a Bhutanese mandala honoring Amitayus Buddha, who embodies intellectual power and wisdom.
Beside the MacLean Collection exhibit, Kelly created a small room, a "contemplative space," which focuses on Thailand's devotion to Theravada Buddhism. This exhibition, "Natural Beauty," culls together pieces from the UMFA's permanent collection, but also serves as a space on tours for added education. Amid the 19th-century Thai Tipitaka, the chanting lessons of Buddha painted on wood with gold, and a bronze standing Buddha, children can leaf through Buddhist Stories and Stories of Krishna, two popular comic books from India, and take in the sounds of a singing bowl, a bell used for meditation practice.
By being in this "space within a space," Kelly hopes visitors can appreciate different cultures and the value systems behind them.
"One thousand years of art in this room," he says with a smile, "and the artists aren't listed at all."
If you go
See "Passion for Form" at the Utah Museum of Fine Arts
This exhibition of Southeast Asian art from the MacLean Collection will be on display through Sept. 23 at the UMFA, 410 Campus Center Drive, Salt Lake City. Tours, free with admission, are offered on Tuesdays and Thursdays at 2 p.m.