Buddha is center stage in new Ringling exhibit
BY CHARLIE HUISKING, Herald Tribune, Dec 9, 2007
Sarasota, FL (USA) -- When Helga Wall-Apelt first saw the multi-armed, lacquered wooden sculpture of a Buddhist divinity, she was struck by its "beauty and sense of harmony."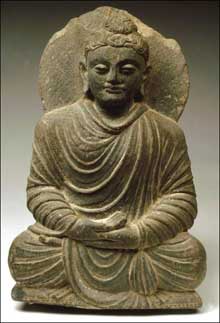 << COURTESY PHOTO / RINGLING MUSEUM
The multi-armed, lacquered wooden sculpture of a Buddhist divinity, above, is the centerpiece of the Ringling Museum of Art's "Asian Art in Focus: Guanyin Personified" exhibit. The collection also includes the seated Buddha, below.
That was almost 50 years ago, when Wall-Apelt purchased the imposing seated figure from a private collector in Germany.
That sculpture, created in Vietnam and dating to the late 17th to early 18th century, is the centerpiece of "Asian Art
in Focus: Guanyin Personified." The exhibit opens Saturday and runs through June 15 at the John and Mable Ringling Museum of Art.
The 16 pieces on display portray events from the life of the Buddha, who, according to tradition, was a Nepalese prince who achieved enlightenment in 6th century B.C.
The exhibit also focuses on one of the principal divinities of Buddhism, the bodhisattva, who postponed enlightenment to remain on Earth and assist others in their spiritual quests.
The Wall-Apelt bodhisattva "is extremely rare and unusual," said guest curator Amy G. Poster. "It's probably the single example on this scale in the United States from this period."
The figure is part of a major Asian art collection that Wall-Apelt has pledged to the museum. Announced in 2006, her donation has been valued at $50 million. It includes funding for an Asian art gallery that Ringling officials hope to open within five years.
In addition to pieces from Wall-Apelt's collection, the "Asian Art in Focus" exhibit will also encompass Buddhist pieces from the Ringling's permanent collection and from the Ira and Nancy Koger collection, which was donated to the museum in 2002.
Objects range from Chinese blanc de Chine figurines to stone reliefs from India and Pakistan.
The exhibit will allow visitors to see how the Buddha and the bodhisattva figures were depicted in various regions, from India and Nepal to China and Vietnam, Poster said.
"The Vietnamese pieces, for example, take from Indian culture, but also offer a kind of echo of things Chinese, for many Chinese were moving into Vietnam during this period," she said.
The curator emerita of Asian art at the Brooklyn Museum, Poster said she is pleased to be serving as a Ringling consultant.
"There hasn't been a major effort to present Asian art on Florida's west coast," she said. "This is a major opportunity. Helga's gift is unique in my 35 years' experience as a curator. I'm thrilled to be involved."
Wall-Apelt is a hands-on donor with strong opinions about how her work should be displayed. "I chose the Chinese-red background color for the exhibit, and I'm pleased that the Ringling people agreed with me," she said. "I think it will help create a warm environment."
Poster notes that the Buddha image has had a "phenomenal influence upon artists through the centuries, and even into our own time.
"But beyond the artistic significance, I think some visitors to the exhibit will focus on what these figures represent, and how Buddhism has developed."
Wall-Apelt agrees. "I think it's an exhibit that can be appreciated on so many levels," she said.