Kitaro's "Sacred Journey of Ku-Kai" Grabs Grammy Nomination
The Buddhist Channel, December 13, 2007
Kitaro's Sacred Journey of Ku-Kai, Volume 3 Grabs A Grammy Nomination Nod in the New Age Category on the 50th Anniversary of the Prestigious Awards
Santa Monica, CA (USA) -- He's universally acknowledged as the founding architect of new age music. Kitaro's various sound collaborations and resonant, multi-textured compositions truly defy the constraints of any genre.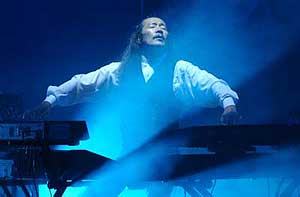 Now, just in time for the 50th Anniversary of the prestigious Grammy Awards, Kitaro's latest project Sacred Journey of Ku-Kai, Volume 3 has garnered a Grammy nomination in the New Age category. This is Kitaro's 13th Grammy nomination to date.
The Grammy and Golden Globe-winning Kitaro has achieved global acclaim over a more than three decade long career with a signature sound and a pioneering fusion of cultures, techniques and spheres of consciousness that are truly his own.
This Grammy nominated album, is the third in a series of a collection of works and peace-themed albums (Vol. 1 released in 2003; Vol. 2 in 2005) and is inspired by the classic Buddhist pilgrimage to the 88 sacred temples on Japan's remote Shikoku Island.
A journey taken by the beloved Buddhist monk Ku-kai over a millennium ago, through the music contained in Sacred Journey of KuKai III, Kitaro continues to explore uncharted waters with his magnificently expansive vision and ever-questing spirit.
He embarked on his Peace and Love World Tour in the fall of this year, a tour that took Kitaro to the four corners of the globe, shining the spotlight of his musical message on audiences as he inspires fans from around the globe to unite as one.
MORE ON KITARO: Grammy Award aficionados, Domo Records and especially Kitaro were excited about his most recent Grammy nomination in the Best New Age Album category.His last release, Sacred Journey of Ku-kai, Volume 2 garnered a nomination in category 44 for the 48th Annual Grammy Awards. It was Kitaro's 12th Grammy nomination.
For over a quarter century, Kitaro has been an internationally recognized icon and globally acclaimed composer and musician. Influenced early on by American rock and R&B, Kitaro began experimenting with synthesizers and a rainbow of unconventional sounds in the mid-'70s. His pioneering fusion of electronic artistry, traditional Japanese forms, and pop-inflected Western idioms created a lush, harmonic, and poetic sound that won the now legendary artist a huge international following. 1980's Volume 1 in the revered Silk Road series is considered an all-time masterpiece, with subsequent volumes only adding to its luster. '87's GRAMMY-nominated The Light Of The Spirit, a collaboration with Grateful Dead drummer Mickey Hart, exceeded sales of two million in the U.S. alone, elevating Kitaro's presence stateside to an unprecedented degree. 1992's transcendent Dream, made with Yes' Jon Anderson, was also a smash, and other highlights are too numerous to single out.
In 2000, Kitaro's "Thinking Of You", which online music bible allmusic.com calls "one of the most beautiful CDs of all time," won a GRAMMY for Best New Age Album, and Kitaro is universally acknowledged as a founding architect of the genre. That being said, Kitaro's atmospheric, powerfully emotive, and multi-textured music truly defies the constraints of any genre, epitomizing what Domo Records founder Eiichi Naito identifies as the label's guiding principle---"To provide a home for both the creators and aficionados of quality music beyond the borders of categorization." Most fundamentally, at its heart, Kitaro's music is always about sending a profound message of peace and spiritual development, both personally and globally. With Sacred Journey Of Ku-kai Volume 2, the artist's lifelong vision coalesces into an elegant and wondrously integrated master work. The first in an important series, it offers a beautifully expressed and richly resonant experience through which to contemplate our changing world.
ABOUT THE PROJECT: Kitaro's concept for the Ku-Kai series was inspired by the events of September 11, 2001, which occurred while he was en route from Japan to Los Angeles. Kitaro's jet liner was diverted to Honolulu for five days, during which time the conceptual endeavor -- which he envisioned as an artistic means to help unify people globally -- took shape.
Sacred Journey of Ku-kai: Vol. 3 is part of a series of recordings dedicated to peace: both internal as well as external world peace. Like the first and second album from the series -- which were both nominated for a Best New Age Album GRAMMY Award -- every track on Sacred Journey of Ku-kai: Vol. 3 contains samples from ancient Japanese temple bells (Peace Bells) and is intended to inspire spiritual awakening and a profound sense of peace in its listeners.
Kitaro adds, "This album title references the classic Buddhist pilgrimage to the 88 sacred temples on Japan's remote Shikoku Island, a route originally traveled by the beloved Buddhist monk Ku-kai over a millennium ago. I continue to follow his path today, and each track on every album revolves around the distinctive bell sound of one of the holy sites, using both actual sampling of the bells and my own personal interpretations of them."
Sacred Journey Of Ku-kai 3 visits amazing destinations in the path that Ku-kai originally traveled more than 1,100 years ago around the almost 1,000 mile perimeter of the island, and which Kitaro himself is following in the present day. Traditionally known as the "Shikoku Henro Pilgrimage"---a journey that about 100,000 intrepid travelers make each year. Sacred Journey of Ku-kai: Vol. 3 continues to spread Kitaro's message of "peace through music."
For more on Kitaro, visit http://www.domo.com/