Japanese New Year Bell Ringing Ceremony at the Asian Art Museum
by Paul Kilduff, San Francisco Chronicle, December 26, 2007
San Francisco, CA (USA) -- There are many ways to ring in the new year, but first, all the misdeeds of 2007 must be expunged from the collective psychic record. To wipe the slate clean and get ready for 2008, sign up to take a swing at a giant temple bell Sunday at the Asian Art Museum's Japanese New Year Bell Ringing Ceremony in San Francisco.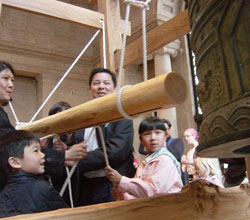 << 22nd Annual Japanese New Year Bell Ringing Ceremony
In the Japanese Buddhist tradition, the belief is that each reverberation of the bell will chase away all the lousy experiences, wrong deeds and bad luck that the past year may have brought your way. To accomplish this, the bell, a 16th century-era 2,100-pound bronze beauty from a temple in Japan's Tajima Province will be gonged with a specially designed log hung from the frame of the bell.
The bell will be struck exactly 108 times in keeping with the Buddhist belief that each reverberation symbolically represents the purging of the 108 bonno or mortal desires, such as greed, jealousy and infidelity, that bedevil humankind.
"Before we welcome New Year's we must clean up our karma," says Yoshi Akiba of the Yoshi's jazz club empire. Akiba's husband, Gengo Akiba, a Buddhist monk and the bishop of the Soto Zen in North America, will preside over the ceremony.
Before anybody takes a swing at the gong, Gengo Akiba will conduct a purification ceremony. Following a brief shakuhachi (bamboo flute) performance, Akiba, using the pine branch dipped in sacred water, will shake the wet branch among the assembled to "clean" their karma. Afterward, Akiba take the first crack at the bell.
This karmic tune-up is something many are in need of, says Yoshi Akiba, who saw a lot of folks on the fence between good and evil in 2007. "People who are in between have to make a decision to become good or bad. Now it's clear. Everybody has to become more real," she says. "America was so plentiful, but now it's getting less and less, and we have to be more careful."
In addition to the bell ringing, attendees can participate in hands-on art activities in the museum's education studio. While anyone can ring the bell, it takes a little effort to pull the mallet, so little ones will need a helping hand.
To get your chance to ring the bell, make sure you get to the museum when it opens at 10 a.m. That's because no reservations will taken to get a turn. Instead, numbered tickets to ring the bell will be assigned on a first-come, first-served basis for 108 groups of four to six people to strike the bell en masse.
11 a.m. Sun. Free with admission: adult $12, college students $7, 65+ $8, 13-17 $7, younger than 12 free. Asian Art Museum, 200 Larkin St., San Francisco. (415) 581-3500. www.asianart.org.