A habit of hiding poetry in pottery
by Lauren Wilson, The Australian, December 28, 2007
OTAGAKI Rengetsu was cursed by beauty and haunted by personal tragedy
Canberra, Australia -- The Buddhist nun overcame great losses in her life to become one of the few successful female artists in Japan during the 19th century and one of the most prolific ceramicists.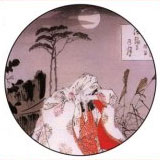 It is said that during Rengetsu's lifetime every home in her Japanese province of Kyoto owned a piece of her work. The enigmatic nun, known as Lotus Moon, remains an important cultural figure in Kyoto's history.
The National Gallery of Australia in Canberra has put together the first solo exhibition of Rengetsu's work outside Japan. Black Robe, White Mist tells the story of Rengetsu's life alongside a display of her ceramics and her elegantly painted hanging scrolls. "What attracted us to it was the story, but it is the simplicity, delicacy and intimacy of the work that makes the show so appealing in a gallery context, it's very tactile," says the exhibition's curator, Melanie Eastburn.
"What comes across is the individual sense of the woman. Her work is very distinctive and her life was very much influenced by her Buddhist faith."
Rengetsu was born in Kyoto's pleasure district in 1791. She is believed to have been the illegitimate daughter of a courtesan and a nobleman. Shortly after her birth, she was adopted into Japan's samurai class and trained in poetry, calligraphy, dance and needlework.
She married while she was still a teenager. At 17 she had her first child, who died 20 days after his birth. Rengetsu and her husband had two more daughters, but neither reached adulthood.
Little is known about Rengetsu's relationship with her first husband. They were divorced and four years later she married another man, who later died of tuberculosis.
On the night of her second husband's death, Rengetsu, then only 33, cut off her hair, swore never to marry again and was later ordained as a nun. "For Rengetsu, most of the tragedy in her life occurred before she started making art but it absolutely informs what she did," Eastburn says.
In 1832, Rengetsu began a new life in Okazaki, northeast of Kyoto. It was then, in her 40s and early 50s, that she began making ceramics for the highly ritualised Japanese tea ceremony.
Her work has an amateurish quality to it. Her fingerprints and nail marks are visible all over the objects, giving a great sense of the person who crafted the vessels. They look rustic in their simplicity, but on each piece Rengetsu inscribed the poetry - called waka, a native Japanese style that was distinguishable from the prevailing Chinese - in a delicate hand. She became best known for the cups and pots she created for tea, but she also made bottles, flasks and sake cups. The vessels designed specifically for sake, rarely acknowledged in accounts of her work, are highlighted in this exhibition.
It is believed Rengetsu produced her ceramics quickly by pinching balls of clay into the desired shape with her hands. Some she would then finish with a thin, translucent, cream-toned glaze; others she would leave unglazed, giving the pieces an earthier appearance. This unusual combination of roughness and delicacy came to define her aesthetic, which was soon widely copied throughout Kyoto and the rest of Japan.
Rengetsu is thought to have helped other artists sell their work by inscribing her calligraphy on to their ceramic pieces.
Rengetsu's waka is central to her work and reveals a deep spirituality and affinity with the natural landscape.
Eastburn considers the NGA's exhibition a considerable contribution to scholarship on the potter. "A lot of the poetry hadn't even been recorded and some hadn't even been translated before," she says.
While neither her pottery nor her poetry explicitly reflect her faith - Rengetsu rarely chose to paint images of Buddha, for example - they convey her deep empathy with nature. Indeed, it is in the connection she made with her physical surroundings that her religious beliefs are best understood.
Rengetsu also painted scrolls. She would paint her waka in her threadlike calligraphy on to dyed paper, often in collaboration with other notable Japanese artists. Most of her collaborations were after 1865, when she settled at the Temple of Divine Light, a centre of esoteric Buddhist teaching. This was the beginning of a prolific and productive period in her artistic life, and she collaborated with many famous artists of the time, including Tomioka Tessai and the Shingon monk Gesshin.
Eastburn says the fame Rengetsu attracted during her lifetime enabled her to work with artists who were generally unavailable as collaborators to women at that point in Japan's history.
"She was a renowned artist at the time and a very active artist," Eastburn says, "and a lot of her encounters with artists came just by social chance. It's not correct to think of her as a nun on the outside of society, she was very social and in many ways very socially engaged."
Rengetsu died when she was 84, in the tea room she would sit in every day to craft her ceramics. Her work today is scattered across the globe.
The National Gallery acquired its first Rengetsu a couple of years ago, and Eastburn says she was surprised to find many Australian galleries also housed her work. "She has quite a big representation for a not particularly well-known artist," she says.
The gallery borrowed works from 27 private collections, including some in Switzerland, the US and Japan. Eastburn says putting the exhibition together was a surprisingly easy process for everyone involved. "It really wasn't a challenge," she says. "Once we had all of the objects together and concentrated the story down to its essence, it all came together."
The show spans Rengetsu's artistic life. "The exhibition has been very emotional for a lot of people; many are spending quiet time in the space and are responding intimately to the work," Eastburn says.
----------------
Black Robe, White Mist: Art of the Japanese Buddhist Nun Rengetsu is at the National Gallery of Australia until January 27.