South Korean potters bring Zen tea ware to India
IANS, Jan 10, 2008
New Delhi, India -- Indians might soon be sipping tea from delicate Korean ceramic bowls thanks to a group of 67 artistes from South Korea who have brought their exquisite crockery, developed according to Zen Buddhist traditions, to the country for the first time.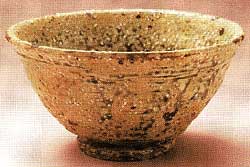 It is now Korea's turn to make its presence felt in Indian drawings rooms. The exhibition "Earth Synergy: An Indo-Korean Exhibition of Contemporary Ceramic Art", which was inaugurated in the capital Wednesday and will go on till Jan 14, showcases South Korean expertise in making domestic bric-a-bracs a metaphor for life and a highly evolved art.
The show, being promoted by the InKo Centre that fosters inter-cultural ties between the two countries, is divided into three groups - "Beyond History, Tradition and Culture", "Poetics of the Domestic" and "Metaphors of the Body".
Korea has a long tradition of pottery making that dates back to the humble peasant bowls that potters crafted in villages in the late 14th century. The pots were known for uneven design, glazed surfaces and striking simplicity.
In the middle ages, Japanese potters took the peasant bowls to their country and used them for their traditional tea ceremony. This form of simple tea ware - called Ruka tea ware - flourished under Zen Buddhists.
"In the early 20th century, Japanese potter Soetsu Yanagi, the father Mingei folk art, rescued traditional tea crockery from oblivion and Korean ceramic sculptors carried it back home and improved upon the teacups, bowls and a range of kettles. What you see today are modern versions of ancient Oriental tea ware," said ceramic artiste Angad Vohra.
According to ceramic expert Kristine Micheal, who is also the curator of the show, the idea to bring Korean art to India originated at the fourth World Ceramic Biennele in Incheon, South Korea when four Indian ceramic artistes were invited to show their works for the first time in April 2007. Kristine was one of them.
South Korea and India have strong artistic links - both have ceramic traditions dating back to the Neolithic era.
"While India did not develop high-fired glazed ceramic vessels because of paucity of clay, Korea adapted the Chinese-style celadon glazes in the 10th century," Micheal said.
"I love functional pottery and I love to fire salt glazed pots," said artiste Jae Eun Lee, whose bowls have a "distinct peasant feel to them" though they shine on the surface.
Koo Im Jung conveys subtle messages through her distorted kettles.
"My works imaginatively describe the kettle as a model of communication that reflects changes in modern life," she said.
The artistes are overwhelmed by the response in India.
"We were in Chennai and Pondicherry in December and we realised that art is very big in India. Everything in India - be it lifestyle or traditions - has a little bit of art in it," said Kim Jin Kyoung, who has trained in New York.
South Korea, says Kyoung, is gradually discovering art and corporate houses are now buying art for lobby décor.
"Ceramic ware is the most popular form because art is architecture-oriented. Our art works are usually placed in office buildings," she said.