Jewel of Tibet: A gem of a musical
By JADE CHAN, The Star, January 17, 2008
Kuala Lumpur, Malaysia -- SCRIPTWRITER and director Ho Lin Huay hopes to attract everyone across society, including those beyond the Chinese group, to the upcoming Jewel of Tibet: The Musical which will be held at Istana Budaya, Kuala Lumpur.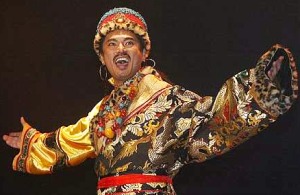 << The hero singing his heart out: Yang Wei Han singing 'I Am King Songsten Gampo'.
"Though the performance is in Mandarin, language won't be a barrier as there will be English subtitles placed above the stage," she said.
"The audience can look forward to a visually attractive and grand show comprising 150 minutes of original music, nine segments of large-scale dances and 17 scene changes with 40 cast members playing multiple roles.
"It'll be a spectacular show as part of it is set in the Tang Dynasty, which was one of the most elaborate in terms of costumes, culture and lifestyle.
"It's a production of international quality with a 100% Malaysian cast and crew members."
Ho was speaking at a press conference and preview of the musical extravaganza about the story of Princess Wen Cheng's journey from China to Tibet more than a thousand years ago to marry King Songsten Gampo.
Her three-year journey took her entourage of over 500 people across deserts, hailstorms and mountains and she brought the peaceful teachings of Buddhism to Tibet.
It is a RM1.5 million creation by Musical On Stage Production, the same creative team behind the internationally acclaimed Siddartha: The Musical and Above Full Moon: The Musical.
Musical On Stage Production, with the support of Xi Yue Art and Culture, also launched a book and 10-episode documentary in DVD format entitled Jewel of Tibet – Walking With Princess Wen Cheng.
The book and DVD documents Ho and her team's travels from Xi'an, the capital of the Tang Dynasty in China, to Lhasa, Tibet, as they journeyed to experience the road taken by the princess.
The book is priced at RM59.90; the book and DVD package is priced at RM129.
"Partial proceeds from the book and DVD sales will go towards covering our production costs. They're sold at bookstores nationwide.
"We're also looking for sponsors to support the show and its production," said Ho.
Deputy International Trade and Industry Minister Ng Lip Yong, who was present at the preview, said he would try to help the team get funding for their musical.
"The worst thing is for them to play to an empty hall. If they're able to get more people to help in monetary terms, it could help fund other shows.
"I've seen their previous two productions, and I'm looking forward to watching this musical. It's great that they've been able to persevere and showcase Malaysian talents in the performing arts, as it's not easy to survive in the artistic arena.
"This is a very appropriate and interesting story about marriage and cultural integration between two countries," said Ng.
"I hope people will come forward to support the show, not only in donations but to support the arts and enjoy a good show."
The musical will be held from March 1-15. Showtimes are at 8.30pm from Tue-Sat and 3pm on Sun. There are no performances on Mondays.
For enquiries about the musical and the book, call 012-632 3033 or visit www.musicalonstage.com. Ticket bookings are available via Axcess Hotline at 03-7711 5000, www.axcess.com.my and at authorised Axcess outlets.