This is what I heard
VietNamNet Bridge, Jan 26, 2008
Hanoi, Vietnam -- Art Vietnam will start the countdown to the Year of the Rat with an exhibition by Le Quoc Viet, who was appropriately born in the Year of the Rat.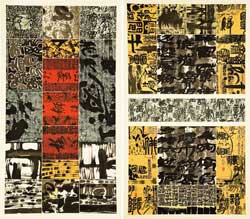 Viet is an artist, a Buddhist, and a scholar. He is one of the few people who can speak and write Nom, the traditional Vietnamese language originating from ancient Han.
Explaining the exhibition's title, Viet said that every Buddhist text began with this simple phrase, "This is what I heard…"
This phrase links the past to the present. It reaches beyond philosophy into the ethereal world of experience, celebrating how eternity might be found in the here and now.
In the exhibition the artist shows his most personal investigation of traditions, modern society and his own life.
Viet's work is a combination of calligraphy, woodblock prints, painting, and ink drawing and through it he takes an unabashed look at the moral disintegration of modern society.
Utilising forms ranging from highly visceral dismembered bodies to abstract brush stokes Viet creates emotive and fragmentary compositions reflecting the breaking down of society, the disorientation of the people, and general moral decay.
Viet has paid much attention to Asian art, especially Chinese art. After a visit to the US he realised that he was living in Vietnam without being aware of all the big names in China.
"I thought about it a lot and decided to go back to Vietnam to find an opportunity for a trip to China to learn more about these young masters," says Viet.
He travelled to Beijing, Nan Jing, Shanghai, Su zhe, but after returning to Vietnam he felt waves of disappointment. Every time he painted he felt like a thief.
"So I got frustrated, I broke all my brushes and crushed my ink pots. Not long after my life fell down a well and my family broke apart," says Viet.
He chose to escape to a remote house, where he could re-think his life and approach to art.
The result is a body of work comprising 60 pieces featured in This is what I heard….
"I combined the language of symbols, graphic design, calligraphy, and prints in all of these collages," said Viet.
According to the art critic Phan Cam Thuong, he was truck by the amount of energy Viet put into this exhibition.
"Viet's latest works divulge a deeply personal perspective and in doing so embody a sense of perplexity over everything he has both lost and found in life," Thuong said.
"Viet's works are full of desire and its counterparts – disappointment and sadness. His calligraphy in some paintings is straight and clear, in others his calligraphy runs in confused circles," he added.
This is what I heard… is now on and runs until February 19 at Art Vietnam, 7 Nguyen Khac Nhu street, Hanoi, 04 827 2349.