Buddhist Master Shinjo Ito Honored With Centennial World Tour
ArtDaily, Jan 27, 2008
NEW YORK, USA -- This Spring 2008, the life's work of Buddhist Great Master Shinjo Ito will be honored with the US debut of Centennial Exhibition: The Vision and Art of Shinjo Ito at Milk Gallery in New York City from February 21 to March 30, 2008.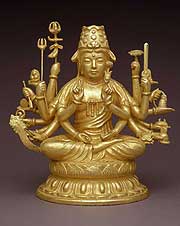 << Shinjo Ito, Bodhisattva Samantabhadra, Bronze, 1978
The exhibition, which is part of a world tour that celebrates the 100th anniversary of Shinjo's birth, will showcase over one hundred pieces of his work and will be marked by an exclusive preview on February 20, 2008.
The Centennial Exhibition was first unveiled in Shinjo's home of Japan, and visited five cities throughout 2006 and 2007, receiving over 300,000 visitors during its brief 54 day run. Throughout 2008, the exhibition will continue to the United States, traveling to New York City, Chicago (April 8 - May 1) and Los Angeles (May 9 – June 29).
The collection will be brought to the US by an esteemed international committee that includes Shinjo's daughter Shinso Ito, Donald Keene and Robert Thurman of Columbia University, Yasuaki Nara of Komazawa University, Margaret R. Miles of The Graduate Theological Union, Masahiro Shimoda of Tokyo University, and Hiroko Sakomura, Executive Producer of the exhibition.
Featuring sculptures, engravings, calligraphy and photography, The Vision and Art of Shinjo Ito includes meditations on principal Buddhist figures Shakyamuni and Achala, as well as the "Great Parinirvana Image," the central figure of the Nirvana Sutra. The intimate collection also presents busts of the significant people in his life, archival photos, and audio-video tapes. During the span of the exhibition, every Thursday at Milk Gallery will be devoted to evenings of culture and well-being, including meditation, yoga and educational seminars.
Shinjo Ito was born in Yamanashi, Japan in 1906 and died at the age of 83 in 1989. During the wealth of his lifetime, Shinjo was a devoted and beloved Buddhist. He trained at the Daigoji monastery of Shingon Buddhism in Kyoto, becoming an Acharya or Great Master of esoteric Buddhism before founding his own lineage in 1936 known as Shinnyo-en. Meaning "borderless garden of truth," Shinnyo-en is a place for Buddhist training in which all people, regardless of age, gender, nationality or religious background, can cultivate their own inner Buddha and innate enlightenment. Shinnyo-en is currently lead by Shinjo's daughter, Shinso Ito, who will be touring the United States with this exhibition.
Throughout his education and his own teachings, Shinjo communicated his spiritual messages through various mediums, resulting in the creation of artistic masterpieces that are recognized throughout the world today.
Though he had no artistic training, he said, "I am no professional. So when I thing about it, I feel uneasy as to how much of the loving kindness, compassion, and virtue of the Buddha the images I create with my amateur skills can express. But I do pour my soul into the job, with sincere heart as if offering three bows for every cut of the chisel. The only thing clearly showing in my work may be that." For more information, please visit www.shinjoito.com.