Buddha belly
China Daily, February 2, 2008
Beijing, China -- Regong Art from Qinghai province unfolds a colorful world with hundreds of Thangka paintings, murals, embroidery works and sculptures at the World Art Museum until February 13. On display are not only the precious collections contributed by the local temples which were handed down from the Ming (1368-1644) and Qing (1644-1911) dynasties, but also the works by contemporary Thangka artists.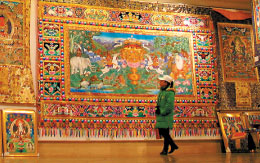 Rolls of Thangka paintings are hung on the exhibition boards, with the largest measuring 4m and the small ones 0.5m. The images of Buddhist, Bodhisattva, Arhat form the focus of the paintings.
As an influential school of Tibetan Buddhist culture, Regong Art originated in the Yuan Dynasty (1206-1368). It has been distinguished among its genre for its balanced combination of Tibetan religion, folk aesthetics and architectural art.
Regong Thangka painting enjoys National Intangible Cultural Heritage status. Executed on silk scrolls with natural mineral pigments, its themes include Buddhist sutras, Jataka stories, historical events, legends and mythology, as well as Tibetan tradition and culture.
The flamboyant color scheme, orderly arranged figures and refined craftsmanship have made the Regong Thangka paintings popular in China and Asian Buddhist countries.
Regong means golden valley in local language. Lying in the southeast of Qinghai, Regong county was a place for nomadic ethnic minorities through history.
Sponsored by the Exchange Center of China Soong Ching Ling Foundation and two other institutions, the exhibition is for charity and poverty relief work and listed in the 2008 Happy Mother Project of the foundation.
If you go:
Time: 9am-5pm, until Feb 13
Venue: Beijing World Art Museum, China Millennium Monument
Address: A9 Fuxinglu, Haidian District
Tel: 8621-6851-3322