Artistic awakening
by YANAPON MUSIKET, The Bangkok Post, Feb 25, 2008
After years of commercial success in the UK, photographer Piyatat Hemmatat has returned home to pursue a creative path
Bangkok, Thailand -- For Thai photographer Piyatat Hemmatat, it took a Western scientist, Albert Einstein, to get him thinking about Buddhist philosophy. Now, the outcome of his engagement with meditative thought can be found in his first solo exhibition in Thailand, Welcome to Verve, which is currently on show at 44 Arts Gallery on Chakrabongse Road.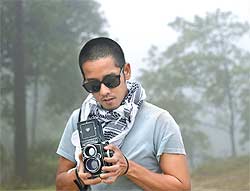 << Piyatat Hemmatat
"Even a Nobel Prize winner in physics like Einstein found Buddhism to be the most logical concept. So why shouldn't a simple guy like me try to find out what convinced this genius to believe so?" asked Piyatat.
In 2007, the 31-year-old artist was straining his creative juices for his latest solo project. Previously, he had been completely at ease - and highly successful - living as a commercial photographer. Yet he was not fulfilled and an inner voice kept calling him to find the missing piece of his puzzle.
"It had been six years and I kept thinking about what would be the next step in my life. Like others, when your heart keeps asking the big questions in life, a range of religious or philosophical ideas are there for you to select from, one of which would be your 'right' answer," explained Piyatat. "For me, that was Buddhism."
Welcome to Verve reflects on how impressed Piyatat was with the first discourse of Buddhist doctrine, the Dhammacakkappavattana Sutta. It is known among Buddhists as Buddha's first sermon, when he preached the principles attained from his enlightenment. One of the outstanding concepts of this doctrine is the "Middle Path", which identifies the balance between extremes of asceticism and self-indulgence leading to the elimination of desire and thereby setting in motion the "Wheel of Dharma", an integral teaching on how to live one's daily life in a way that directs it to nirvana.
"I am not a religious person. But from what I have studied, Buddhism sustains the idea of individual free will. Every word written in the Pali Canon aims to provide suggestion and exemplify the ethical issues the learner could later use to purify their mind and reach out to the ultimate goal - nirvana," Piyatat explained.
"Ever since the Middle Path principle was brought into my life, it has helped me gain a better understanding of myself and others."
From what he said, it appears Piyatat has finally found his missing piece as well as a creative force to apply to his art the culture he knows with Buddhism.
Welcome to Verve also uses the Thai title Matchima Papha, a compound of two Pali words: Matchima means "the middle" and papha means "light".

Photographs from the `Welcome to Verve' exhibition >>
In the exhibition, Piyatat captures a connection between art and dharma metaphors through images of light penetrating the space between doors. Each photograph has a blank section in the middle, which represents the middle path.
"The doors symbolise freedom of choice," Piyatat explained. "You can always choose to open or close the door; it depends on your desire. And the illumination from the door in each photo indicates alternative ways for one to live in sufficiency."
A series of black and white photographs, the exhibition is divided into two sections. In the first room, photos line the walls as in any conventional exhibition. In the next room, however, Piyatat has displayed the same photos but in a darkened room. This allows viewers to fully experience the way light has been captured in each image. The realistic brightness entices viewers to approach the photos, holding their attention and pulling them into the light.
"When I finished this project I planned to contact galleries in London and New York. But Ajarn Chalermchai asked me to show it first in Thailand. He said that Thai audiences should be able to see my project," explains Piyatat. With the support of celebrated artists Chalermchai Kositpiphat and Thawan Datchanee, the exhibition will be on show at 44 Arts until March 2.
Piyatat credits his artistic success to several important people he has met along the way. He never studied photography, both of his degrees are in painting, yet his adviser for his undergraduate degree was open-minded enough to accept a series of painting-sized photographs as a submission.
"I was doing my bachelor degree in painting at City and Guild London Art School. But when I was in my last year, I realised that I didn't see myself living my life as a painter. That was the time when I put down my brush and took up my camera, from then 'till now."
Piyatat's professor granted him permission to use photography for his final project, saying the essence of art is not just based on the medium the artist uses. Furthering this move, Piyatat based his entire master's degree in fine art, which he undertook at Chelsea College in 2002, on photography, despite the degree usually being associated with painting.
Once he graduated from his master's, Piyatat embraced success as a professional photographer. Void, his final project for his master's, stirred the London art scene and boosted his reputation. For the project, Piyatat photographed bars, arcades, theatres, cinemas, galleries, airports and trading floors - places that are usually crowded - when they were completely empty of people. The photographs drew out ideas about how isolating, lonely, peaceful, alienating, inspiring or threatening a city can be. A reviewer from The Guardian wrote that "the sour tinge of faded glamour skilfully reflects the claustrophobic disillusionment of an escapist dream."
Piyatat 's talent was also applauded by Oasis guitarist Noel Gallagher, who purchased three photographs from the Void collection.
Later between 2004 and 2005, Piyatat worked for luxury UK brand Alfred Dunhill as an art director with a team from O Studio, designing seasonal catalogs modelled by dreamy-eyed actor Jude Law.
Piyatat has held annual exhibitions since his debut with Void in 2002. But after 16 years of living in the UK, he decided last year to move back to his homeland to explore his new passion for contemporary photographic art.
"My initial goal was to share my personal experiences and advocate for an alternative to the Thai photography community. I wished to enhance this unique art form to make it more accessible and acceptable in the Thai art scene," said Piyatat with a determined look in his eye.
At the opening of his first solo show in Thailand, Chalermchai praised Piyatat as a rising star in Thailand's art photography scene.
"I admired his talent and the sound representation of Buddhist concepts through his photographs," said Chalermchai. "Even though the appreciation of contemporary photography is still poor in our country, I believe good art will survive and I am willing to support the next generation of Thai artists to become successful both in Thailand and internationally."
Following Welcome to Verve, Piyatat intends to continue pursuing his artistic dreams. Later this year he plans to put on a show of his landscape photography, however he said being a full-time artist is an improbably goal and that he will still have to rely on commercial work from time to time.
"I still need to work for money," he laughed. "I don't reject commercial art. Besides, I need money for the materials for my personal work. It is, after all, 'the middle way' of living."