Desert grottoes shelter China silk road art trove
by Emma Graham-Harrison, Reuters, March 26, 2008
DUNHUANG, China -- The nine-story Buddha statue that towers over one of China's greatest art collections is really the image of a woman, guide Zhang Yanlin says without blinking.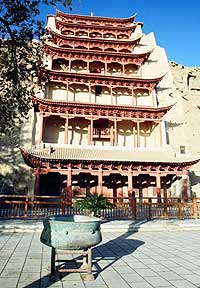 << Some of the Buddhist Mogao Grottoes at Dunhuang, west of Xian on the Silk Road in China, are housed within this wooden cliffside structure.
Photo by Ted Davis/Special to Vancouver Sun
Carved out of a cliff as part of a seventh-century bid to legitimize a female emperor, the 30-metre (90 ft) plus giant is one of the most overwhelming pieces in a honeycomb of desert grottoes filled with dazzling frescos and sculptures.
Visitors walk down a flight of steps into a cave that spits them out between the statue's giant toenails, where by craning their necks they can gaze up the vast expanse of torso to a benignly distracted face.
More subtle artwork decorates hundreds of other caves in the Mogao grottoes, begun over 1,600 years ago when they were on a thriving trade corridor.
The collection was created over the centuries that the nearby oasis town of Dunhuang, stranded at the edge of the desert in northwestern Gansu province, was still a silk-road hub.
Phoenixes cavorting across the roof of one early grotto are as startlingly blue as when they were painted hundreds of years earlier, thanks to expensive lapis lazuli pigments. In another cave, the gold-plated faces of dozens of tiny Buddha frescos leap into life with a warming gleam under the beam of a torch.
Beautiful in themselves, they are also a mine of information about life during the periods they were painted, and the swirl of cultural influences in an area that is now mostly dominated by Han Chinese but was once a riotous mix of cultures and faiths.
In the dark back corner of one cave an artist, used perhaps to working in India and frustrated by more conservative Chinese tastes, stripped the coverings from four apsaras -- a kind of Buddhist angel -- who dance in luxurious nakedness beside hundreds of more modest companions.
Also open to visitors is a tiny cave where the greatest silk road library was discovered by a caretaker monk in 1900 after lying hidden for over 800 years -- and then mostly sold on for token amounts to foreign collectors.
It has a lifelike statue of a powerful monk-official. In the fresco behind him, a begging bag that looks disconcertingly like a fashionable modern handbag hangs from a tree branch.
These days, a more powerful government takes protecting the panels very seriously. Two young cleaners who tried to steal erotic frescos from a cave of Tantric art in the 1980s were executed, one guide said.
With high-tech security systems now in place, the curators' biggest fears are water and wind, the guide added. If the clay that holds the frescos in place gets too damp it can flake off from the roof, while the vicious sandstorms that scour the town in spring can also scrub away at the delicate paintings.
The caves are around 20 minutes' drive from now sleepy Dunhuang, set beside a small stream that winds through scrubland and desert scattered with memorials to long-dead monks.
Visiting in the off-season, from November 1 to April 30, brings half price tickets and the luxury of having the grottoes almost as much to yourself as the original explorers -- although flights are less frequent and some hotels are closed.
Visitors on quiet days willing to pay the extra 20 yuan ($3) for a guide who speaks English may be lucky enough to get an individual tour of around ten of the caves -- though the management rotates which ones they open, to try and reach a delicate balance between conservation and the desire to show off one of China's national treasures.
Dunhuang has its own airport, and there are a handful of four-star hotels to stay in and around the city, including the Silk Road Dunhuang Hotel, which looks out over the desert dunes.
Its markets are famous for their donkey-meat noodles. For travelers with less adventurous palates, there are also a type of glassy noodles made from pea flour and wonderfully sweet melons, grapes and dried fruits from nearby Xinjiang province.
(Reporting by Emma Graham-Harrison; Editing by Sophie Hardach)