Buddhism in the eyes of a Western photographer
VietNamNet Bridge, March 26, 2008
Hanoi, Vietnam -- "Oasis of Silence", a collection of 64 black-and-white photos about Theravada Buddhism taken by Swiss photographer Beat Presser in Southeast Asia, is now on display in Vietnam.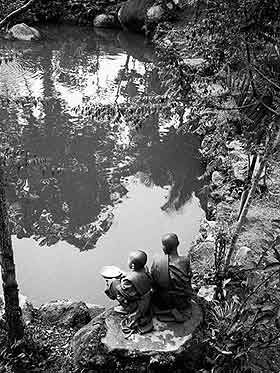 At the age of 19 Beat Presser was travelling through Southeast Asia and had a car accident in Thailand. He was healed from a serious spine injury by monks in a Buddhist monastery, and he vowed to do something in return, should he become the photographer he intended to be.
Between 2000 and 2004 Beat Presser came back to live in monasteries in Thailand, Burma, Laos, Cambodia and Sri Lanka, and travelled extensively, capturing the essence of Buddhism with his lens. Oasis of Silence, a photographic art book first published in Germany in 2005, is the first result.
"Oasis of Silence" features the holy atmosphere of Buddhism, the beauty of the spirit. He took these photos in Myanmar, Cambodia, Laos, Sri Lanka and Thailand, and now brings them to Vietnam.
At the invitation of the Embassy of Switzerland, the exclusive photo exhibition will be held from March 29 to April 18, 2008 at Art Vietnam Gallery, 7 Nguyen Khac Nhu, Hanoi.
On March 28, the exhibition will be opened by the Ambassador of Switzerland, H.E. Mr. Jean-Hubert Lebet, in the presence of the photographer Beat Presser and a gathering of distinguished guests.
On March 27, Beat Presser will introduce his long-term Oasis project and photographic work at the Hanoi Cinémathèque, 22A Hai Ba Trung street, Hanoi. He will give insight into his travels and Buddhism research in Southeast Asia, with a slide show and personal commentaries.
While in Vietnam, Beat Presser will not only introduce photos to Vietnamese audiences and take photos of Buddhists in the country but conduct a workshop for professional photographers from March 31 to April 10, 2008 in cooperation with the Vietnamese Association of Photography and Art Vietnam Gallery.
Participants will explore their personal "Oasis of Silence", capturing their own places of spiritual retreat and regeneration with their cameras.
The workshop will be followed by an exhibition of the results at Art Vietnam Gallery, from 18 to 25 April 2008.
The photo art book "Oasis of Silence" will be published in a special Vietnam edition in English, accompanied by a Vietnamese translation insert. The book will be available at Art Vietnam Gallery.