Shinjo Ito's statuary in South Loop gallery
By MICAH MAIDENBERG, Chicago Journal, April 9, 2008
Second time exhibit has been displayed in the U.S.
Chicago, USA -- It seems appropriate, given that Buddhists believe in a certain kind of impermanence to the temporal world, that the new exhibition "The Vision and Art of Shinjo Ito" will be in Chicago for less than a month.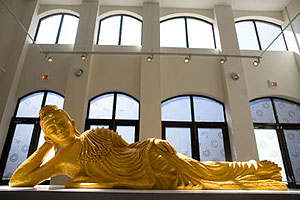 << The "Great Parinirvana Image."
Photos by JOSH HAWKINS/Staff Photographer
It also seems appropriate that the exhibit is free, and includes a substantial outreach campaign to attract visitors, including a separate information center on Oak Street in Old Town, a trolley between the center and the gallery and radio advertisements. Shinjo Ito, the Japanese artist and religious leader whose statues, engravings, calligraphy and photographs are on display at "The Art and Vision of Shinjo Ito," was a religious populist who believed enlightenment was something accessible to everyday people.
"Shinjo Ito's brilliant idea was that Buddhism in the middle of the twentieth century had become much too priestly, or monastic, so that many people thought you had to be a monk to achieve enlightenment," said Margaret Miles, a former Berkley and Harvard religious studies professor and member of the committee producing the traveling art show. "His idea was that everybody in regular lay life could achieve enlightenment."
The show opened on April 8, at the Chicago Illuminating Company, an events space at 19 E. 21st St., on Tuesday, Buddha's birthday.
Stationed in curved wood stands painted white, Ito's works were gathered from Buddhist temples in Japan and shown together, for the first time, in five Japanese cities in 2006-2007. The show made its debut in New York in February and will also be shown Los Angeles.
The statues are made of bronze or resin. There are bodhisattvas, religious seekers and Buddhist teachers, like Kaigen Kato, Abbot of Eninji Temple, or Rosen Takashina, superintendent of Soto Zen Buddhism, hardly known outside of Japan. And, of course, there are multiple engravings and statues of the Buddha himself-in meditative repose, holding his hands in specific mudras, or gestures, symbolizing wisdom, or climbing down from the mountains without achieving enlightenment.
One of the most impressive pieces is the gold-covered 16-foot "Great Parinirvana Image," which shows the Buddha right before his death. The Buddha has achieved enlightenment. He leans on his arm and smiles. The work demonstrates Ito's innovations on Buddhist religious thought and its subtle expression in his art, Miles said.
"He's on the point of death. He's not a god, he's a man, and he has achieved enlightenment, and he knows how to help others to do so," she explained. "So, in order to reflect that, the sculptor made his face youthful, his posture higher up on the elbow. Usually he's leaning down, sinking."
The statues can still be ceremonial objects too, and not just art pieces. To celebrate Buddha's birthday, the producers of the show organized a brief ceremony last Monday.
A monk took a small statue of Buddha and placed it into a bowl decorated with flowers and filled with sweet tea. The monks took turns pouring water over the statue's head, bowing before each pour.
The tea-covered statue was approximately a foot in height, cast in bronze. The arms are point in opposite directions.
"He's pointing to the heavens with his left hand and pointing to the earth with his right," said Hiroko Sakomura, one of exhibition's organizers. "He is telling Queen Maya, [his mother], 'I will unite heaven and earth.'"