Art from past and present
Thanh Nien News, May 23, 2008
Ho Chi Minh City, Vietnam -- Of all the museums in Vietnam, the Ho Chi Minh City Fine Arts Museum remains among the most popular.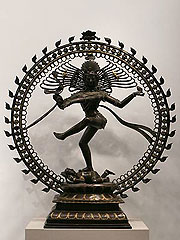 It is considered an invaluable institution for displaying and restoring a wealth of cultural treasures of national ethnic heritage.
Located at the intersection of Pho Duc Chinh, Le Thi Hong Gam, Calmette and Nguyen Thai Binh streets in Ho Chi Minh City's District 1, the museum was established in 1987 and officially opened to the public in 1992.
The building was constructed using Baroque architecture and once belonged to one of the city's wealthiest men, Hoa, who owned several luxurious villas and hotels including the present-day Majestic Hotel.
The gallery has three stories showcasing an evolving contemporary collection, ancient Buddhist artwork and Cham statuary.
The first floor is used for periodic expositions of both local and international artists.
The second displays valuable paintings and sculptures from the museum's permanent collection, and the third floor highlights fine art relics dated from the 7th-20th centuries.
The collections include over 20,000 artworks made of various materials including terra cotta, porcelain, precious woods and gold.
The museum is also home to highly valuable paintings like the lacquer work Vuon Xuan Bac Trung Nam (Three regions' spring garden) by renowned painter Nguyen Gia Tri.
The gallery purchased the piece for an astonishing US$100,000.
Visitors to the museum can also view several modern collections including works by contemporary homegrown artist Bui Xuan Phai, famous among local and international experts for his drawings of Hanoi's ancient town.
The gallery also houses well-known works like Em Thuy (Sister Thuy) created in 1943 and Cong nhan co khi (Mechanic Workers) by Nguyen Do Cung in 1962, among many others.
Located at 97A Pho Duc Chinh St., Dist. 1, the HCMC Fine Arts Museum continues to be a renowned venue for fine arts exhibitions from the distant past, while also serving as a platform for contemporary artists to display their work.