Serene beauty carved in wood
By TAN KARR WEI, The Star, October 7, 2008
Penang, Malaysia -- FOR two years, Yu Shih Chin, 45, and a team of workers carved wooden statues of Guan Yin, the Goddess of Mercy.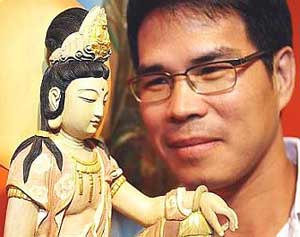 << Fine details: Yu having a close look at one of the statues.
"From the block of wood to the finished product, there are nine steps and different people working on each process," said Yu, who hails from China.
The result was 33 intricately carved and painted statues of the different manifestations of the Guan Yin according to the Universal Gate Chapter of the Lotus Sutra.
"I would study the images of the Guan Yin in the Sutra, and design the statues from there. During the carving process, we need a model to sit in a pose similar to the design that we have," he said.
Guan Yin is the bodhisattva (enlightened being) of compassion and is venerated by East Asian Buddhists, usually as a female.
In some Buddhist temples and monasteries, Guan Yin images are occasionally depicted as a young man dressed in Northern Song Buddhist robes.
The Ci Yun Jing Yuan temple organised an exhibition recently showcasing the carved statues to raise funds for a hall.
Reverend Shi Chang Chao from the temple said they also wanted to let people know more about the meaning of Buddhism.
"Sometimes, people chant and pray but they don't understand it," Shi said.
"Many people do not really understand the Guan Yin as there are many forms and manifestation of the Guan Yin," Shah Alam Buddhist Society president Datuk Vincent Lim said.
The carvings are permanently displayed at the Shah Alam Buddhist Society (SABS) at No 9, Jalan Sg Congkak 32/41, Bukit Rimau, Shah Alam.
The exhibition at the SABS is open to the public from noon on Saturday, Sunday, and on the first and 15th of the lunar calendar every month. For details, call 03-5121 5182.