Expressions of Zen
Story and photos by YIP YOKE TENG, The Star, October 22, 2008
Kuala Lumpur, Malaysia -- WRITING a Chinese character in different ways on more than 500 teapots can be a daunting task for anyone, but the Venerable Chi Chern thinks it is a fun experience.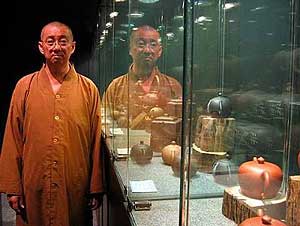 << Drawing words: A piece from Chi's latest move to merge calligraphy with ink painting.
The chairman of the Malaysian Buddhist Association was confined for about 10 days in the town of YiXing (known as The Capital of Clay) in China's Jiangsu province while performing this unique feat.
Affable and bubbly, the master related how he gave different manifestations to the Chinese character Chan (known as Zen to the English-speaking community).
"The straight-forward method is to make the word fatter, slimmer, shorter or taller," he said when interviewed recently at Shian's Art Gallery in Kuala Lumpur where an exhibition of his works is being held.
"Or, you can turn the word into a mini drawing," he added.
One has to see the teapots to understand what he means.
Chi takes liberty on some strokes on the character by elongating or varying the angle, and viola, the word is effortlessly transformed to resemble a man sitting in meditation or one rowing a boat, with light and smoke gently wafting in front of the man in each case.
His depictions were quite apt for the character, which is difficult to define in words.
"It was not too hard a task.
"I found time to take a stroll, read a book and even watch television when I was there, and I did not have to work from morning till night," he said.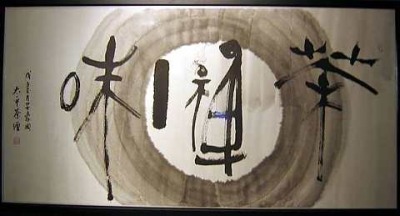 Up to the challenge: Chi did not find it difficult to write the Chinese character Chan in different ways on 500 teapots >>
The exhibition features 200 other teapots on which are carved verses of his poems and thought-provoking Zen sayings that emphasise life's transient nature.
A series of ink paintings derived from calligraphy complement the teapots.
Chi has been doing calligraphy for 25 years and his works are prized for creativity as the characters are given a twist by making them look like drawings.
It started with an idea he had while he was in the United States for a series of Dhamma talks.
"I realised the character Chan had an interesting form. Its looks radical, like a pole on which a light is perched, and its body resembles a man in deep thought.
"The image reflects the meaning of the character. So, I depicted that when writing it," he recalled.
He applied the same technique to other Chinese characters, giving a new dimension to his works.
"Chinese characters are, after all, logograms. So, the process is simply going back to the basics," he said.
Chi recently went a step further when he started dabbling in ink paintings.
Describing himself as an amateur in the art form, he invites the ink and water (which he calls his partners) to play a proactive role in the work. He puts rice paper on water and applies ink on the paper, leaving the two elements to develop with minimal intervention.
The work express the teachings of Zen Buddhism: a drop of water, a shoal of fish and the moon sighted from different perspectives are among the expressions.
The exhibition runs until Oct 26.
Shian's Art Gallery is located at Lot 3-056, 3rd Floor, Endah Parade, No. 1, Jalan 1/149E, Bandar Baru Sri Petaling, Kuala Lumpur. For more information, call 03-9543 4669 or visit the website www.shiansart.com.