Sikkim endeavours to preserve heritage of 'Thangka' art
ANI, Dec 13, 2008
Gangtok, Sikkim (India) -- Buddhist deity paintings with roots in Himalayan and Tibetan regions known as 'Thangkas' are the oldest form of traditional and religious art.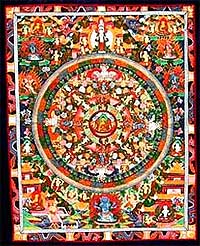 Lest this art form using vegetable colours and oils as the base is lost in the modern era, the Traditional Arts School at Gangtok has taken up the task of preserving it.
This school is for the monks, drawn from various monasteries across Sikkim at Rumtek, Phensong, Lachung, Rabong, Namchi, Soreng and Sombaria. Besides these, artists and monks from Darjeeling and Bhutan too attend this school to learn this exclusive art.
A separate wing named Enchey School was opened solely for monks in 1909 to train the students in mastering the art of 'Thangka' paintings.
This school, which will celebrate its centenary next year, was patronised by the Chogyals, the then ruling dynasty of Sikkim.
Students were trained by the most prominent 'Thangka' artist of Sikkim. Later several renowned 'Thangka' painters of the time became professionals.
"They come here to learn the painting and after learning they leave for their monasteries. No trainers from outside are required to come here and teach them," said Tenzing Norbu, instructor of Traditional Arts School For Thangka Painting.
Further, he mentioned that the students are taught thoroughly all aspects of 'Thangka' art right from sketches and making of easel, graphic linings and the apt colour combinations.
Graph is the base and foremost learning process of 'Thangka' painting.
The students are taught to learn the graph making starting with the head of Lord Buddha, then Syajug (body) and lastly Namjug (costume of Lord Buddha).
After qualifying for the graph course of five years, students learn 'Thangka' with the color. The course of 'Thangka' painting is complete with the painting of Guru Thikpa.
"I have been into the 'Thangka' painting for past two years. In a span of two years' I have learnt a lots of things from this institution like making of different kinds of Buddha and Goddsess Dolma. After finishing of my course from this institution' I would teach my younger monks as there is a big necessity in my monastery in this field. I am the first student from my monastery to learn the art of making 'Thangka'," said Tashi Norbu, a monk.
'Thangka' painting is basically related to the painting of religious Buddhist God and Gurus who hold a great significance in Buddhism. Every 'Thangka' possesses historic and religious meaning, Norbu said.
"It's been one year here. What motivated me to join is that first I am a Buddhist and practicing this type of paintings helps to preserve our heritage and culture," saidTenzing Namgyal, another student of the school.
Since there has been no marketing strategy for the 'Thangka' paintings done by the students, now plans are afoot to set up a viable network of art studios and other outlets.
Indeed, this could be a befitting milestone in the history of this school, which is all set to celebrate ts centenary in 2009.
Proper exposure to the students would enable them to take up 'Thangka' painting as a professional vocation and thus help the sustenance of this unique art.