A special time for Buddhists
By Lakna Paranamanna, The Nation, May 4, 2009
Colombo, Sri Lanka -- Vesak is a very special time for Buddhists, because it depicts the themagula, birth, enlightenment and parinibbana (death) of Lord Buddha. Pandals, or better known among us as Thoran, take a prominent place during the celebrations. Thousands of multi coloured bulbs, emphasise the beauty of the paintings and brings the various Jathaka tales or, incidents in Lord Buddha's life, alive.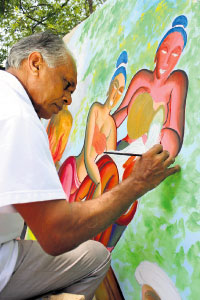 Not only Buddhists, but many others, irrespective of religion, are very enthusiastic of sightseeing during this season, just to view these vibrant pandals. The Nation met an artist, Somaratne Gomez, who has been making pandals for nearly two decades, to have an insight into the art of pandal making.
Inspired by nature
Even before I stepped into his house, I could see how dedicated this painter was for his life's passion; art. The entire house, from the entrance, was transformed into an art workshop; brushes, palettes and paints placed in every nook and corner, and paintings were displayed, while the walls and the floor was speckled with dabs of paint. I could smell fresh paint, as he warmly welcomed me into his house. Sections of the pandal were completed and placed aside, while he had started work on detailing another, perched on a tall stool.
It is a common perception that art is a talent and not a skill which can be developed through techniques and tutoring alone, and without the knack for the medium since childhood. Gomez's story as an artist had taken quite a different twist than the usual ones, because he was not at all interested in art as a child, until he was 14 years. "I never liked art and I got the lowest marks in school. But suddenly, when I was about 14-years-old, I developed a sudden passion for drawing and painting. I never had a master to help me develop my skills, they were techniques that I developed on my own, inspired through nature," he tells us, while dabbing paint on the canvas. It was evident from his paintings that, the shades of colours used were those found in the environment around us. The drawings were very natural, real and very colourful and bright.
This sudden urge for art made him attempt at making small pandals. "When I used to go sightseeing during Vesak as a child, I thought of trying to make a pandal myself. So, since then, I made pandals during Vesak, displayed them in my garden, and put them safely back in my room cupboard until the next Vesak."
Gomez's first ever public exhibition of one of his pandals had been when he was about 18-years-old, as part of Vesak celebrations of a children's society. "The pandal depicted the story of Patachara." Since then, this skilled painter has been making pandals, with a collection of more than 30 pandals, including two pandals for Sirasa Vesak Kalapaya 2000. "I did not make them for money. I do not believe in marketing and selling my religion. It was only two years back that I began accepting money and that too, only to buy the colours and the necessary material, and to pay two other artists who assist me," asserted Gomez, adding that, even so, sometimes, some organisers slip away without paying. "I do not mind that type of behaviour. I paint for my own personal satisfaction, not for money. Since my expectations are met, I am more than happy. I do not get affected by that type of people," he says smiling.
From a sketch to a complete work of art
A pandal is a creation of hard work, dedication and unity. Apart from the main artist there is a whole team behind him that helps bring the story alive. Gomez started telling me the process of starting on this work of art. "The story which is portrayed is decided by the organisers. It is only afterwards the artist begins his work, breaking story into parts and giving them life through his skills. Usually I begin working on the work of a pandal at least four months ahead because then there is plenty of time for alterations if needed. Also painting should not be done in a hurry; it should be similar to that of a meditation."
For starters, the thorana is designed in the form of a mini replica of the design. After the design is completed, the actual sized wooden frames are made. Then the raw material is first dabbed with rubber paint, left to dry and stretched and fixed onto the frame. He says that a medium sized pandal would require at least 50 yards of material. "This is the point where the artist begins his real work." Pencil sketches are done on each component and afterwards the artist and his assistants begin their work. "I have two assistants. They are my students so they know my style best. They have been of great help and this venture would not have been successful without them," added this wonderful artisan. He only uses acrylic paint for his work because of the high quality. "It gives the painting a glow and looks wonderful when the bulbs are lit."
The next chapter begins when the completed components are assembled and fixed into the rough body of the pandal (Katu Thorana). "It is the most challenging in the entire process. Most don't use a scale while making the wooden frames to match the mini block. So the trouble arises when the pandal is assembled because the components do not sometimes fit the rough body," pointed out Gomez adding that this, results in additional work of cutting and chopping off pieces which can be quite complicating.
"So I follow a different technique. After designing the mini block, I make the actual sized pandal out of boxboard according to a scale. The wooden frames are cut and shaped to match the actual sized boxboard plan so that the components would in the end fit perfectly into the rough body. Also I make it a point to make both sides of the pandal in perfect symmetry. This adds up an extra cost of about Rs. 5000, but I follow this way because then the final creation is flawless."
Traditions
The pandal makers follow a set of traditions when they begin working on the pandal "The main tradition is to begin the work at an auspicious time." The propitious times are followed while handing over the advance money, while placing the first arecanut plank for the Katu Thorana, while assembling the components and finally during the opening of the pandal.
Another tradition called the Nethra Nakatha is also followed when working on painting Lord Buddha. "According to tradition, while painting the Buddha, the eyes are not painted by the artist until a certain auspicious time arrives." However, Gomez does not follow these traditions. "It is important to follow the traditions. But this is my personal belief. I believe in Lord Buddha and his dhamma. So I do not feel the need to check auspicious times. Whenever I am ready I begin my work," he said, while getting off the tall stool which he was on while working on one of the figures, to mix another batch of colours.
Adding more of his personal stance on painting pictures of Lord Buddha and sculpting the statues, he says that he does not agree with each and everyone painting or sculpting Buddha statues. "I have seen many artists paint the Buddha and even some sculptors, do not draw or mould the statue giving the figure the proper attributes. If you can not do a proper job, you should just refrain."
A challenge
"Constructing a pandal is not an easy task now. Even if the paintings and other construction work is done with minimal cost, the bulbs and the other electrical fixtures are very expensive," says Gomez pointing out that the wires which cost about Rs. 400 about three years back is now about Rs. 1500. He says that to build a thorana, currently at least Rs. 0.5 million is required.
This year Gomez is working on one of the main pandals to be displayed, organised by the Eksath Welanda Sangamaya of the Panadura market. It is 55ft tall and 55 ft in width and the tale portrayed would be the Mahasaala Brahmana Jataka. "Many pandals nowadays depict various Jataka tales and other instances of the Lord Buddha's life, but not the most important incident. The themagula is the most important incident and that should be given priority. I always add at least one of these incidents in my pandals if they are done for the Wesak season. This time I am very happy to say that I included all three," he concluded, smiling proudly.