Prince Siddhartha The Musical - Bigger than ever
By SETO KIT YAN, The Star, May 22, 2009
Four musicals later, Musical On Stage Productions celebrates its 10th anniversary with a restaging of its pioneer performance, Prince Siddhartha The Musical
Petaling Jaya, Malaysia -- TEN years after it burst onto Malaysia's art scene as its first full-scale musical, Prince Siddhartha The Musical is back. And, it's bigger and better than ever.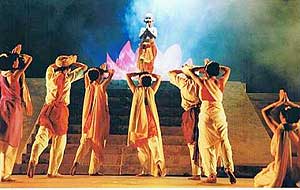 << Joyous occasion: People celebrating the birth of Prince Siddhartha in Prince Siddhartha The Musical, which will be staged at Istana Budaya, Kuala Lumpur, from today till May 31.
Produced by Musical On Stage Productions (MOSP), the musical received rave reviews when it premiered as Siddhartha in October 1999 with a three-day run at Bukit Jalil Putra Indoor Stadium, which attracted a crowd of more than 18,000. Siddhartha went on to play in Singapore (2000) and again in Kuala Lumpur (2002), South Africa (2004) and Indonesia (2007).
Written, produced and directed by Ho Lin Huay, the musical is essentially an Eastern story retold and staged in Broadway style.
It is an inspiring and colourful story about a prince who gave up worldly comforts to seek the meaning of life and in the process attains enlightenment and, ultimately, becomes the Buddha.
This time around, the RM1.5mil show will make a highly anticipated debut at Istana Budaya, which is also celebrating its 10th anniversary this year.
"Previously, our show was performed at Bukit Jalil, which had a bare stage so we had to build everything from scratch. This time it's very exciting because we'll be playing at Istana Budaya, which has state-of-the-art facilities that allow for countless scene changes.
"Now we can more easily achieve the magic of theatre because the venue can accommodate our crazy ideas," Klang-born Ho said in an interview recently.
"People are amazed that there is an all-Malaysian troupe putting up performances and full-scale musicals year after year and are still doing it till today. I wish to let people know that we do have very talented performing arts enthusiasts in Malaysia," enthused the 38-year-old theatre director who holds a degree in motion picture and theatre production.
Ho continued: "Other than passion for the performing arts, we have a vision. We feel it's about time Malaysia develops a very happening theatre scene, with a street full of theatres. I feel musicals are the way to go as they are more easily accepted by the laymen.
"Throughout the years, we have performed to all kinds of audiences. We always feel that people come to be entertained and gain good teachings and inspiration as well as food for thought."
MOSP has four large-scale musical productions: Siddharta (1999), Above Full Moon (2004), The Perfect Circle (2006) and Jewel Of Tibet (2008). All four are works that feature the teachings of Buddhism, yet they are not so much about religion.
MOSP gained recognition for their sumptuous efforts when Jewel Of Tibet came away with a large share of the awards at the recent 7th Annual Boh Cameronian Arts Awards in the newly created category Musical Theatre: best director for Ho Lin Huay, best original music (Imee Ooi), best choreographer (Chan Soo Leng and Michelle Yong Soo Fon), best sound design (Alvin Koh) and best performance in a supporting role (Ciang Teng).
Composer, music arranger and music director for Prince Siddhartha, Ooi, says they feel happy with what they have done for the past 10 years.
"We've decided to preserve the songs but we'll enhance the music arrangement by adding more live instruments. With the state-of-the-art sound facilities, we now benefit from surround sound.
"There are a lot of natural sounds like those of birds and waterfalls to fit in with new effects and enhanced visual backdrops. The sound effects and music help to set the mood and create a stronger imagination." added Ooi, who hails from Taiping.
"Thanks to this staging at Istana Budaya, we attracted a lot of people from the theatre scene. I think people are looking for something more than pop concert, hence musicals can be a new entertainment venue for them."
Apart from Ho, Ooi and Koh, the production crew for the present show include Caren Yee (costume designer), David Wong (stage designer) and Ee Chee Wei (lighting designer). Dance choreographers Yong and Chan are joined by local Butoh expert Lee Swee Keong.
"Definitely, there would be many changes, as we have made much progress after 10 years. Compared to our initial show, everybody has matured considerably," declared Yong.
"Compared to the previous venue, we are glad to be performing at Istana Budaya, where we do not have to worry about a fragile stage. I tell the dancers that they have to take advantage of this wonderful opportunity," added the 46-year-old from Seremban.
"Our performers have more advanced skills now. Many of our Malaysian artistes can sing and dance well given proper training. Such performers are valuable as they are able to play multiple roles in a production."
Yong also revealed that Prince Siddhartha features more dance choreography in comparison to their previous productions – the different genres portrayed include Indian contemporary, Indian classical, Chinese classical, Japanese classical and Butoh (contemporary Japanese). Audiences will see a performance by choreographer Lee, who is also a well-established Malaysian Butoh dancer.
Of the 43 performers for this musical, half of them had performed in the 1999 show.
Most of the main cast reprised their roles in this revamped version: Yang Wei Han (Prince Siddhartha/Buddha), Chew Paul Way (his wife Princess Yasodhara), Teoh Kee Hock (his father King Suddhodana), Chew Paul Wah (his mother Queen Mahamaya and Queen Veidehi).
Yang, who has taken the male lead in each of MOSP's musical productions, also doubles up as the animation designer, creating sprawling landscapes and vibrant scenery as the backdrop.
The versatile vocalist was a pop star when he first took on the role of Siddhartha. The role has influenced his life immensely for the past decade. In preparation for it, he became a vegetarian to grasp the compassionate psyche of Buddha.
"Vegetarianism was naturally an integral part of my interpretation of his compassion. It didn't feel like such a big sacrifice."
The singer from Air Tawar, Perak, remains a vegetarian.
"Initially, when we first debuted the show, we were full of ideas and there were so many possibilities, that it was all like muddy water clouding our vision. But gradually, it has all settled and become very clear to us," the 38-year-old vocalist observed.
"Initially, I thought of him as god, but through the years, as I continue to do research and it became clear to me that he is actually a great and inspiring teacher.
"Playing this character has given me so much more than I could ever imagine. I never get tired playing him. You'd think that singing for two hours would mean expending a lot of energy. But, after every rehearsal for this musical, I'm surprised at how revitalised I feel when I get home."