"Best Goryeo Buddhist Painting" returns from Japan for Local Exhibition at Tongdosa Temple
The Korea Times, June 3, 2009
Seoul, South Korea -- One of the best Buddhist painting of Suwol-Gwaneum-Do or literally Painting of Water Moon Avalokitevara Bodhisattva in Sanskrit, which had been in a Japanese jinja (??) or a Shinto Shrine for nearly 600 years, came to South Korean for a special exhibition at a Buiddhist temple.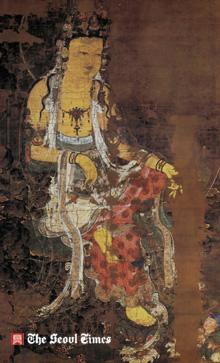 << Buddhist painting of Suwol-Gwaneum-Do or literally Painting of Water Moon Avalokitevara Bodhisattva
The Suwol-Gwaneum-Do Buddhist painting is from Kagami Jinja or Kagami Shinto Shrine in Karatsu City, Saga Prefecture, Japan.
The Buddhist painting was created by eight court painters in 1310 on the order of a Queen Kim of Goryeo Dynasty, but was pillaged by the Japanese pirates soon after. Japanese invaders took the painting to Japan and kept it there for nearly 600 years.
Queen Kim was the second wife of King Chungseon,the 26th monarch of Goryeo Dynasty (918-1392).
Dubbed "the largest and most beautiful Suwol-Gwaneum-Do Buddhist painting" by art historians, this Water Moon Avalokitevara Bodhisattva painting on the one silk scroll, started to be on exhibition from April 30, 2009 at Tongdosa Buddhist temple in Yangsan, South Gyeongsang Province.
The special public display of the Suwon-Gwaneum-Do, 4.19 by 2.54 meters, in Tongdosa Museum will continue until June 7, 2009.
Tongdosa Temple announced that it hosted the exhibition of the special Buddhist painting on the occasion of the 10 year anniversary of the opening of its Tongdosa Museum.
It is the second time for this greatest masterpiece Buddhist painting of Goyreo Dynasty to be exhibited in South Korea. In 1995 it was on displayed at Hoam Art Gallery south of Seoul.
Experts say that this Suwol-Gwaneum-Do is one of the world's 38 Buddhist paintings of Goryeo Dynasty, depicting Suwol-Gwaneum or Water Moon Avalokitevara Bodhisattva.
It was Korea's Goryeo Dynasty that top-quality Buddhist paintings were produced. There are some 160 Goryeo Buddhist paintings that exist in the world.
But there are no more than 10 of them that remain in South Korea. Japan has them all. There are only 20 Goryo Buddhist paintings scattered in Europe and America.
The rest of the paintings, over 130, were taken by force or sold illegally at best, to Japan long time ago. Most of them were pillaged by the Japanese invaders throughout history.
Experts agree that this Suwol-Gwaneum-Do painting is the most beautiful, the oldest, the largest one that still exists in the world.
Some art critiques compare this Buddhist masterpiece to "Mona Lisa" by Leonardo da Vinci. Others argue that it's much better than "Mona Lisa."
In Japan this painting is on public display for only 38 days per year out of concerns for conservation.
The temple souces said that they started contacting the Japanese Shinto shrine one year ago for this exhibition.
In 2003 the Suwol-Gwaneum-Do painting was displayed for 20 days at a San Francisco museum under the tile of "Goryeo Dynasty: Korea's Age of Enlightenment (918 to 1392)."
But, exhibition period this time is double that of San Francisco exhibition. It is on exhibition at Tongdosa Temple for the full 40 days.
For details or inquiries please visit Tongdosa Museum's website.
http://tongdomuseum.or.kr/