Trailing the Buddha
by Anand Sankar, Budsiness Standard, July 11, 2009
Photographer Benoy K Behl travels to Siberia and Afghanistan to shoot art in the monasteries there, and his project will culminate in shows in London and New York, finds Anand Sankar.
New Delhi, India -- Photographer Benoy K Behl's pursuit of documenting ancient Indian art and the spread of Buddhism across the world does not show any signs of slowing.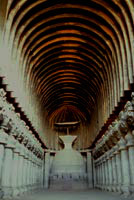 Photographer Benoy K Behl loves his jazz. The study in his modest office-apartment in New Delhi is dominated by a stack of compact discs. But it isn't as if he has many free evenings to spend in the company of Miles Davis. "I never get enough time," he rues. Catching up on music is something that Behl will finally have time for once he embarks on his journey to Siberia — albeit by air.
Known for his work in exploring the art and architecture of ancient India, the photographer is going to be making a journey to the rugged and cold north as part of an Indian cultural delegation. But, he promises, he will find time to also explore Buddhist heritage in Buryatia, on the shore of Lake Baikal, Russia. The art in the monasteries there — revered by Russian Buddhists —may be of unique significance to us in India, considering this was the furthermost region to which Buddhism spread in ancient India, from the time of Ashoka.
Tracing such geographical extremities or histories is not new to Behl. For almost two decades now, he has been trying to document the spread of Buddhism; his work evident in over 30,000 unique photographs that he has taken all over the world. Behl's tryst with Buddhism has led him everywhere — from the banks of the Volga to Japan, from West to Central Asia, from the Indian subcontinent to China, South Korea, and South-east Asia. "At many of these places people may not have seen present-day Indians but they still hold Indian culture in great regard," he says.
Apart from Siberia, Behl also hopes to travel, this year and the next, to Mongolia, Uzbekistan, and Pakistan and Afghanistan — the last two, the "only gaps" in his Buddhist portfolio. He hopes that conflict in the troubled area will mellow, allowing him to travel to the Swat Valley and Taxila, a huge centre of Buddhist learning in ancient India. The culmination of these journeys will be an exhibition of all the photographs he has taken of Buddhist heritage during his travels. A teaser of the exhibition was recently on display in London and New York, titled, Legacy Of Compassion. The Victoria & Albert Museum, London, also screened a film by him — The Untold Story of Buddhism — at the opening celebration of their gallery of Buddhist art.
Behl's documentation of ancient Indian art began in earnest in 1991 when he decided to take up the challenge of photographing the paintings in the Ajanta caves. The paintings, dating back to 2 BC, are shrouded in shadows as it is feared, rightly, that bright, artificial lights will hasten their decay. Behl, even then an accomplished photographer, decided to photograph these paintings without using any artificial lights.
This he did by setting his camera to exposures as long as 25 minutes. The resulting rich images stunned researchers who were interpreting the works and led Behl to delve deeper into the realm of ancient Indian art.
"The paintings of Ajanta appeared to me as a world of compassion. An entire world is enshrined there. It had an immense effect on me. I found all the things one had believed in and wanted to believe in there. I was really taught by that art.
It is a really good way to learn. Western literature did not come in the way of art and me," he says.
The Ajanta paintings and other works of ancient Indian art, says Behl, prompted him to go beyond mere photography to try and interpret these. His interpretation, he says, was undiluted, "as there was nothing between the art and myself". He adds: "In ancient times, there was nothing called Hindusism, Jainism or Buddhism. This is a European construct of a divided religion.
The philosophy of religion was not limited by these divisions in India or in Asia even," he contends.
Behl uses the architecture of religious sites in ancient India to explain this "Indic vision". "Essentially, in Indic vision, we see the material world around us as maya (illusion). The high purpose of life and art was to lift this illusion and be able to see the truth and oneness of all that lay beyond. Early Indic vision revolved around the stupa and the linga. The phallic symbolism associated with these became overpowering only later. The West began calling the stupa a 'funery mound'. Meanwhile, the Chitra Sutra tells us that the eternal is best seen as formless.
Since it is difficult to focus on the abstract, deities were created. They were the forms of maya. They are on the walls of the stupas. But when you enter, you are reminded of the formless eternal," he says.
At Ajanta, Behl says he found that the popular view was that the paintings were a "flash in the pan". And that there was no documentation of what happened before and after these. "Sheer volumes of art are waiting to be discovered and with them, a perspective will emerge. People haven't bothered to go to these places. The purpose of Indian art is to show grace.
Even if it depicts daily life, it has a philosophic basis and great depth to it."
Citing an example, Behl says, one of the stories that needs to be documented in India is the contribution of Kumara Jiva, a big name in Chinese Buddhism. "He was the son of Kumara Yana, an Indian nobleman who married Princess Jiva of Kucha (in China). Jiva took her son to the Kashmir valley, where he studied for 19 years. He became the greatest translator for Buddhist scriptures in China, especially the Lotus Sutra." The Chinese government has built a statue recognising this at the Kizil caves, on the northern Silk Route in the remote Xinjiang Autonomous Region. Behl suggests that India must also "build a statue of Kumara Jiva" in recognition of his origins.
Some of Behl's observations on the Indic vision might ruffle feathers in the academia, amongst certain ideologues. While politely saying that he "stays away from political issues", he points out: "At some places, they are less confused than us.
For example in Bali, they know that the Ramayana sets a benchmark for ethical rule. It is literature, an epic of ideas. The ancient culture of India is important in world history. European writing has perhaps undermined this." To substantiate this he says that Ashoka is still revered everywhere from the Volga basin to Japan.
The world was less divided then.