Enlightened art: Buddhism comes to life at Ringling's 'Paths to Paradise' exhibit
By Lennie Bennett, St Petersburg Times, September 13, 2009
SARASOTA, FL (USA) -- I spent about twice as long in "Paths to Paradise: The World of Buddhism" as I usually do seeing a new exhibition, for two reasons: I had to and I wanted to.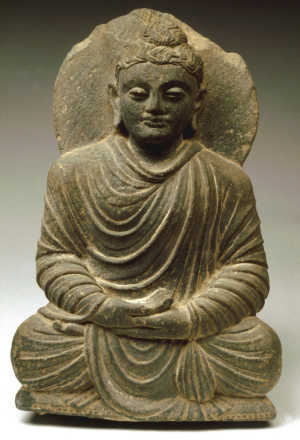 << Seated Buddha (Gandharan), third or fourth century, stone.
With just over 100 works in the show at the John and Mable Ringling Museum of Art, mostly sculptures, I needed a lot of time just to navigate it. But mostly I lingered because I became so absorbed in the cultural story presented in a clear, well organized way and the beauty of the objects that tell the story.
For those with a deep knowledge and understanding of Buddhism, one of the world's great religions, the wall texts will probably seem oversimplified. For those with only a passing acquaintance (this writer and, I suspect, many people who will see the show), the information provides a satisfactory overview and context. In most cases, the labels for individual objects locate a particular into the general scheme. My quibble with the information is it sometimes raises questions that remain unanswered. (More on that later.)
Buddhism's central principles are simply stated: Existence is suffering; suffering is caused by our desires; there is a proscribed way to end suffering through right living, and the end of suffering leads to enlightenment, or nirvana. Yet like Christianity, Judaism, Islam and Hinduism, its followers have added a lot of complexity to the earliest tenets. I'm not going to try to parse the various branches of this movement that began about 2,500 years ago with a young prince named Siddhartha Gautama, who left his privileged world behind sometime during 500 and 400 B.C., in the area now known as Nepal, to seek the meaning of life.
We see dozens of representations of him after he attained nirvana that reflect both the universal qualities he has been given and the times and places in which the objects were made.
Generally, all portrayals of Buddha, which means enlightened one, conform to an old, accepted canon. His ears are elongated, a reference to his princely past when he wore heavy earrings, and a topknot crowns his head. I could not find much specific information about this feature, called his ushnisha in Sanskrit. It doesn't seem to be part of the list of primary characteristics listed in that canon; most sources say it connotes wisdom. In later examples, you see that the topknot is sometimes a bump on the head, a physical exaggeration to emphasize Buddha's greater brain power. Images of Buddha in Thailand typically have a flame shooting from the ushnisha. And Buddha's body in the countries of Southeast Asia is generally more lithe and less clothed.
The earliest examples in this show were made hundreds of years after Buddha's death; apparently none exist from before that. Scholars are not sure why he was not given bodily form until the first century and this show doesn't address the issue. (I discovered it in independent research.) A group of relief stone carvings from the ancient kingdom of Gandhara, the center of the young religion in what is now parts of Pakistan and Afghanistan, depict Buddha's spiritual journey.
One seated Buddha is highlighted because his facial features and robes resemble those of ancient Greek statuary, indicating the influence of the West, possibly, the wall label tells us, through Alexander the Great's incursion into the region. A nearby map of the Silk Road routes reinforces the way Buddhism spread and reasons for its adaptation as it took root in different parts of the Asian continent.
You'll see the difference immediately as you "travel" down the road and through the gallery. From 16th or 17th century China, a large, magnificent Buddha of lacquered papier-mache (one of the collection's treasures according to Asian curator Qing Chang) is dressed in gilded robes and diadem on his head, a far different Buddha from the mendicant of old.
In most Asian cultures, Buddha assumes one of three positions, standing, sitting or reclining. But in Thailand, he is frequently posed as Walking Buddha, unique to that country and Laos as we are told by the text accompanying a 19th century bronze example. To find out why, I had to search other sources, finding the answer on the British Museum Web site. It seems that this style developed in the 13th century to emphasize Buddha's humanity. The rulers wanted to reinforce that sense of oneness with their people.
We are introduced to the supporting cast attached to Buddha, called bodhisattvas, those who also possess great wisdom and assist lesser mortals in following the Middle Way on their path to righteousness.
A Vietnamese version of a bodhisattva, called Avalokiteshvara and revered for his compassion, is another treasure in this collection. Like others of his kind, he could ascend to nirvana but has chosen to remain on earth as a spiritual guide. This statue of lacquered wood has 26 arms, suggesting Hindu gods whose multiple arms symbolize supernatural powers.
Near the end of the second gallery is a collection of luohans, Buddhist disciples who are worshiped for their devotion to their faith. Like most of the Chinese sculptures, a stone luohan who rests his head on his hand, a slight smile on his face, is imbued with individual personality and generally richer accoutrements.
This is an art museum show so the emphasis is on the creative differences in the many manifestations of Buddha, but you really can't separate cause from effect here (which, by the way, ties in with Buddha's teachings about the endless cycle of rebirth).
The inevitability of suffering is central to the Buddhist faith yet unlike, say, Christianity, the illustrations of suffering don't seem as prevalent. Just walk over to the permanent collection galleries at the Ringling Museum and look at all the paintings of martyred saints if you want proof.
But in these galleries, there is none of that drama. So perhaps my reluctance to leave also came from the serenity that seemed to emanate from these figures who in real life would be as still as their stone versions, deep in thought. All were at some point objects of veneration and worship before they became works of art in a museum, representing belief in what could not be seen.
Here, we need only believe what we see.
----------
Paths to Paradise:
The World of Buddhism
The exhibition is at the John and Mable Ringling Museum of Art, 5401 Bay Shore Road, through Nov. 8. Hours are 10 a.m. to 5:30 p.m. daily. Admission is $25 adults (includes Ca d'Zan and Circus Museum), $20 seniors, $10 children 6 to 17. ringling.org or (941) 359-5700.