The Monk Who Sold His Pictures
Indian Express, Jan 14, 2010
Mumbai, India -- Twenty-five years ago, Nicholas Vreeland, grandson of legendary fashion editor Diana Vreeland, left New York for the quaint Rato Dratsang monastery in Mundgod, Karnataka, to become a Buddhist monk. When he returned home, his brother gifted him a Nikon camera.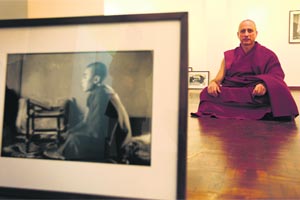 Vreeland discovered a passion for photography at 15, when he assisted noted photographer Irving Penn and spent a summer working with another cameraman, Richard Avedon. At Rato Dratsang, Vreeland rarely used the camera, except to photograph his surroundings. "I did not want to be the monk who went around taking photographs," says Vreeland, 55, as he chooses 20 pictures shot at Dratsang for an exhibition at Delhi's India International Centre.
His pictures provide a glimpse into daily life in a monastery. In one image a student in a maroon robe is engrossed in conversation with his teacher; in another, a monk is holding rosary beads in Hubli. The collection arrives in Delhi after travelling to Paris, Geneva, Rome, Chicago and Milan; and the money raised from the sales will be used for the reconstruction of the Rato monastery.
Established in 1983 by monks who managed to escape to India after the Chinese crackdown on Tibet in 1959, Rato's residents have gone from 12 in 1985 to more than 100 now. The cost of reconstruction was estimated at $500,000 15 years back but there's been a setback since the global economic slowdown of 2009. During a trip to Europe, Martine Franck, wife of Henri Cartier-Bresson, suggested that Vreeland exhibit his pictures to gather funds for the monastery, and introduced him to French photographer-curator Robert Delpir.