Experiencing "Buddha's Joy" at Nalanda Centre, Malaysia
The Buddhist Channel, March 10, 2010
Buddhist Arts & Culture Exhibition at newly officiated Nalanda Centre

Seri Kembangan, Selangor (Malaysia) -- Nalanda Buddhist Society, a leading Buddhist education organization in Malaysia, will host the "Buddha's Joy" exhibition featuring exquisitely-moulded Buddha and Kwan Yin (Goddess of Mercy) statues at its newly officiated premise, the Nalanda Centre.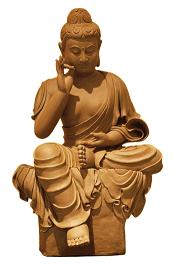 In line with its vision to be a centre of excellence for Buddhist education, development and propagation, Nalanda is teaming up with Natural Pottery Arts & Crafts, a ceramic arts and crafts academy, to impart the importance of Buddhist arts and cultures in instilling devotion, learning and practice of the Buddha's teachings.
"By gazing at the beautiful, calm and peaceful demeanour of the Buddha figurines, we ourselves are filled with happiness and contentment; qualities which are conducive to spiritual growth. Closer observations of the postures and design elements too will give insights into Buddha's teachings and cultural background of the art pieces," explained Mr. Ee Kim Swee, President of Nalanda Buddhist Society.
"Through appreciation for fine workmanships such as this, we naturally feel inspired by the amount of faith, devotion and effort put in by the artisans. This in turn inspires us to put in greater effort in our own practices," added Ee.
Natural Pottery Arts & Crafts is a locally founded arts and crafts academy specializing in ceramic Buddhist figurines, decorative items, pots and pottery. Established since year 1999, Natural Pottery Arts & Crafts is the first and only known artisan in the country to produce ceramic Buddha statues.
Due to the supreme delicacy and concentration required to produce these form of art pieces, the founders have researched and honed their crafts for more than a decade before successfully perfecting a Buddha statue.
"Apart from patience and endurance, we have learnt the art of equanimity in moulding Buddha statues. Anything could have gone wrong in the two-month long process required to complete a full-sized statue. Having put in our level best in every foreseeable process, we readily and happily accept the end result regardless of the outcome," said Mr. Law Yoek Suie, founder of Natural Pottery Arts & Crafts.
"Special attention has to be given to the facial expression, headdress and the folds of the robes. Therefore, we also need to maintain a clear vision and joyful heart while moulding the art pieces," added Ms. Chia Peck Hong, co-founder of Natural Pottery Arts & Crafts.
Both founders are extremely passionate about introducing this peaceful art to every corner of the country and optimistically look forward to the day when their art pieces are owned by every three householder in Malaysia.
The Buddha statue exhibits will be on display from 20-21 March 2010 at Nalanda Centre, Sri Serdang. Introduction to ceramic arts making and live demonstrations are scheduled twice daily for publics who are interested to try their hands at moulding.
If you go
Admission to exhibition and live demonstration is free of charge. Contact the Secretariat at 03-8938-1500, Mr. Wong Kin Yap at 012-297-7479, or visit www.nalanda.org.my for more information.