Will Bennett profiles a piece of sculpture which survived Chinese occupation of Tibet
The Telegraph, Nov 1, 2004
London, UK -- The survival of this clay head, made by a Tibetan craftsman more than 500 years ago and portraying a Buddhist holy man, is remarkable. Not only is it extremely fragile, but many such pieces were destroyed by the Chinese rulers of Tibet during the 1960s Cultural Revolution.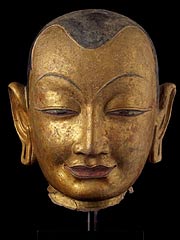 The craftsman began by making a wooden core, surrounded this with a mixture of clay and straw and then decorated the outside with paint and gilt. The unknown subject was almost certainly a leading religious figure in 15th-century Tibet and the 8in-high head was probably placed in a temple.
Today, Head of a Monk will go on sale for around £20,000 at John Eskenazi's gallery in Old Bond Street, London, as part of an exhibition of 25 rare Himalayan, Indian and South-East Asian sculptures.
The monk has a peaceful expression, his eyelids half closed as in meditation, and has classically highly-arched oval eyebrows. Such works of art could once be seen in many temples, but Eskenazi estimates that Mao Tse-tung's Cultural Revolution destroyed about 90 per cent of Tibet's artistic heritage.
The Chinese believed that pieces such as this were indigenous idolatry, and Mao's fanatical Communist cadres scoured Tibet smashing works of art connected with its history or its Buddhist faith.
Eskenazi's exhibition also includes several important figures from the Gandhara region, which now straddles north-west Pakistan and eastern Afghanistan, one of which is a clay head of a woman with a headband dating from the 5th century.
The exhibition continues until November 12 and is part of Asian Art in London, which begins on Thursday. It is the seventh time this annual event has been held to promote the capital as a centre for the study of and trade in Asian art, and it now attracts collectors and curators from all over the world.
Dealers will hold exhibitions and open evenings for collectors and the merely curious, museums will host a variety of lectures, and auction houses will stage sales to coincide with the event. A launch party will be held at the Victoria & Albert Museum on Friday.