i4uuu Collection Museum Debuts the Important Original Zen Buddhist Mumonkan Manuscript
i4uuu Collection Museum, March 26, 2005
Taipei, Taiwan -- A 13th Century (dated 1246) original manuscript of Zen Mumonkan (Chinese:Chan Zong Wu Men Guan)in the i4uuu Collection is published for the first time. A special online exhibition is held by i4uuu Collection to debut a 13th Century Zen Mumonkan (Chan Zong Wu Men Guan) manuscript. This original manuscript was written and signed by An Wan Zhu Shi and dated Pin Wu year of Chunyou Period (1246). Exhibition website: arts.i4uuu.com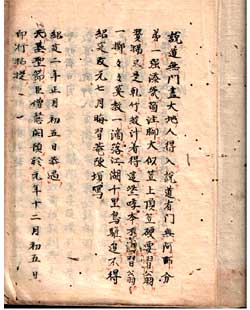 Mumonkan, The Gateless Gate, was originally compiled and published in the first year of Shaoding Period (1228) by Zen master, Wu Men Hui Kai (1183-1260). The book is ranked among Christian Bible and Muslim Koran as one of the most important religious books. It is a collection of Zen Koan (a subject for contemplation in Zen Buddhism, usually one of the sayings or significant incidents of a great Zen master of the past).
Existing published text of Mumonkan is based on a woodblock printed book published by a Japanese Monk by the name of KanYuan in the Yiyou Year of
Yinyong Period (1405)in Japan. There are several slight textual differences between the Japanese version and this 13th Century manuscript. The complete digitized text of this 13th Century manuscript allows scholars to make detailed word-by-word comparison between the commonly-known text and the Mumonkan in its original form shortly after it was first published in the 13th Century.
In addition to the historical significance of text comparison for this important Zen Buddhist book, this manuscript is also an important work of Chinese calligraphy from the 13th Century. This manuscript bears the signature of An Wan Zhu Shi and its calligraphic style is similar to several 13th Century calligraphers such as Zhang Jizhi. This special exhibition displays the entire 70 page manuscript in clear digitized close-up photographs. Viewer of this online exhibition can enjoy Mumonkan text word-by-word in its original Chinese character of the 13th Century.
Exhibition Website: http://arts.i4uuu.com
Related Links
arts.i4uuu.com
Contact Information:
Michael M. Lai
Curatorial Director
i4uuu Collection Museum
886-936220136
arts@i4uuu.com